This article was originally published on January 24th, 2014
After a long and successful playing career, Alec Stewart has done a variety of things in the game and the media. But he's never been far from Surrey, where one set of the Oval gates bears his name. After stepping in as team director last season following the departure of Chris Adams, Stewie's now taking charge as permanent director of cricket. Matt Thacker met the England and south London legend for a cup of tea and a chin-wag in his office in Kennington.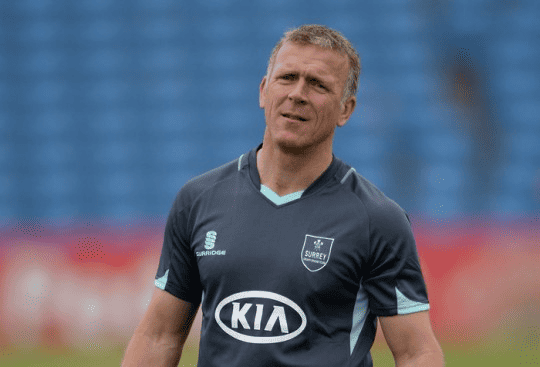 You're moving into a director of cricket role at Surrey from now on. From player to director to coach, you've done pretty much every role on offer there… even had the gates named after you!
Surrey's been my life. I've grown up as a Surrey person. As a youngster I wanted to play football or cricket, I was better at cricket, and I've never contemplated going anywhere else. Dad was playing when I was born – so the game and the club have always been part of my life. Since I gave up playing I've done various things, but I've been with the club since 2003 in various capacities, and I've now got an opportunity to try and shape Surrey for the years to come. Yeah, I've got some gates named after me while I'm still alive but I don't want them pushing me towards the presidency just yet!
Do you still play the odd game?
I never play at all now. I've had my time and I always put everything into it. I'd not want to play now because I wouldn't give it my all. I played once after my retirement and I got into the nets with the bowling machine for five sessions beforehand – it was for the club I played for in Australia and it was a decent standard. But not any more, I've had my time!
Would you approach anything you did with the same level of attention to detail?
Yes, absolutely. If you look at Jose Mourinho – the manager of my club, Chelsea – he is class: preparation is all – he studies, learns, and acts on that. As a player you have to do everything you possibly can to give yourself the best chance. It's the same in any walk of life. If I'm giving a talk, I'll prepare well, make sure I look at things that might go wrong and I will analyse afterwards. I don't see why that should be any different whatever it is you are dong. It's common sense that if you work harder, you've got more chance of success.
Is football still a big part of your life?
Yes. Everyone needs a release, something that is not their job, to take their mind off things and relax. Mine is football – I love everything about it and always have done. I still play a few games for the Casuals – I play centre-half and if it moves, it's going… With Ramps it was Strictly and you saw what a difference that made, having the off-field release. Players have to have other interests, things to make them realise that cricket isn't the be all and end all.
On the cricket side though… it was a tough year for Surrey last season, wasn't it?
Well, right from the signing of Graeme Smith the whole club had high hopes and ambitions for the season. We now have to accept we are a second division side and make sure that moving forward there is improvement. It was a disappointing year on the pitch for various reasons – the loss of Smith with his ankle injury, the change halfway through the season of the coaching set-up and of course the fact that we only won one Championship game all year – meaning we couldn't escape relegation – all came as a blow. The hope and expectation quickly disappeared. The shining light was the Twenty20 run, to get to the final was an achievement but, ultimately, you are judged over a whole season. And you can't put it all down to the loss of Graeme Smith. We lost a major player and leader, and of course it had a big impact, but it's not all down to that. We won three in 2012 and one this year – that's four in 32, so it's not as if it's just happened. Moving forward we've got to take the lead, control games from ball one and be proactive.
Were there any crumbs of comfort?
There were significant bright spots. The Twenty20 was a good effort and Dominic Sibley's innings at the end of the season was a highlight – he certainly has a bright future. And Rory Burns stepped up: he made just under 1,000 runs in his first full season. He will need to try and do the same or better in what is often a tougher year or two after your initial breakthrough. Overall I just want to see improvement, whether you are 18 or 28: I want to see people try and better themselves and the team. It's not too easy for players these days – it can be hard playing Twenty 20, with four-day cricket in the middle. Look at our stats and they dropped off alarmingly after the Twenty20. Is it mental or technical? The art, and this is what was impressive with Sibley, is not as prevalent as it was.
So how will the new set-up work, with you sitting above new head coach Graham Ford?
From now on I am in position as director of cricket, which is a role that will fit very well for me. It's not full-time, so I'll still be out there doing media stuff, seeing other cricket, being aware of what's going on as part of the three-year deal. I love and have always loved Surrey and am very excited about the role. I will oversee the professional and academy cricket, throwing everything into it, giving it my all, as I've always done. I'll be making sure the structure from academy upwards is working well. For my part, I want to be understated but effective, not scream from the rooftops at the smallest achievement, and cut down on speculation. We want to provide all we can for the youngsters coming through; I want as many players coming through our system as possible, and for Surrey to stand for producing their own players – and producing for England, too.
And what does Ford offer?
He's just an excellent man to have coming in. He understands what Surrey stands for and has a reputation for being a good team coach as well as being someone who improves individuals. Everyone who has worked with him speaks in glowing terms: Kent, the South Africans, the Sri Lankans, not to mention KP… and we're hopeful and confident that the new set-up will be effective for the whole club over a significant period of time.