This article was originally published on January 9th, 2014.
Former Surrey and England ODI skipper Adam Hollioake spoke to Matt Thacker about his career-shaping moments.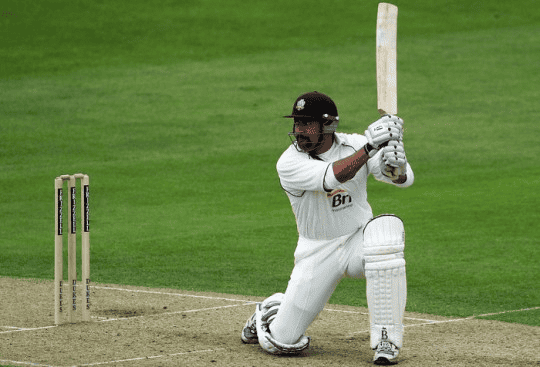 MANCHILD
196* | Flora Doris Final, somewhere in Surrey, late 1980s
The Flora Doris is a 15 eight-ball-over evening comp in Surrey and in the final I almost got a double ton for Send. I must've been about 16 at the time and I remember I just kept belting it over the ropes. I was a man by 12 and massive for my age at 14 and 15. I did serious damage – I remember taking 9-1 in one game and I just tried to bowl as fast as possible, to frighten people. Another time we bowled the opposition out for 8. One bloke got 3 and there were five leg byes…
SURREY DEBUT
13 & 123, 2-75 | Surrey v Derbyshire, Ilkeston, County Championship, August 19-21, 1993
I got 120 on debut and it gave me the confidence to know I could do it at that level. I was batting at No.7 and wasn't really aware of what I was doing, I just went out and hit it. I wasn't wearing a helmet and it all seemed to come very naturally. I remember Dominic Cork trying to bounce me repeatedly and me just hooking him to the fence.
PUTTING THE KIWIS TO FLIGHT
2-19 & 86* | Surrey v New Zealand, The Oval, 55-over match, May 12, 1994
This was a warm-up game for the Kiwis and I don't think I've ever batted better in terms of fluency. I got about 90* to take us home chasing 260 and I also got a couple of wickets, including Martin Crowe. I really felt I built my innings well and was so comfortable. I think from 1994-96 I was at my best as a batsman.
GOLDEN ARM
40 & 38, 1-49 & 4-22 | Surrey v Yorkshire, County Championship, The Oval, August 10-14, 1995
We'd hardly won a game all year and it was the last day and a really flat one. At one stage they needed just over 30 to win with seven wickets left, and just four with three wickets left. I brought myself on for a go and I took all three for one run! It was an amazing game and one of the most enjoyable celebrations we ever had!
BAG OF TRICKS
15 & 4-23 and 13 & 4-45 | England v Pakistan, 2nd and 3rd ODIs at Edgbaston and Trent Bridge, Aug 31 & Sep 1, 1996
These were my first two ODIs and nobody had really seen my sliders before. They kept hitting them straight to cover and I managed to mix it up enough to get quite a few wickets. Things changed once they worked me out of course! This was the year we won the Sunday League and I got a record 39 wickets, so my one-day form was bang on.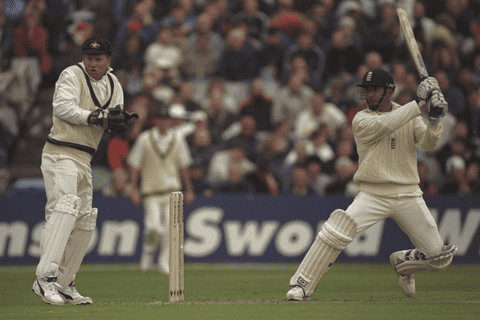 NEW ENEMY
2-22 & 66* | England v Australia, 1st ODI, Texaco Trophy, Headingley, May 22, 1997
I got runs and a couple of wickets and was Man of the Match on a really difficult track. We were about 40-4 chasing 170 and me and Thorpey gutsed it out and knocked them off against McGrath, Warne and Gillespie, who I hadn't really played against before. Obviously they gave me shit as I was "an Aussie" so that made it even better. Warnie had gone to the trouble of finding out the names of a few of my family members and was going: "Uncle Rex and Auntie Noreen will be watching back in Melbourne", and so on…
WINNING WITH ENGLAND
0-50 & 16 | England v West Indies, Singer-Akai Champions Trophy, Sharjah, December 19, 1997
This was a slightly strange, one-off tournament, where each of the four teams played each other once before the final. The team spirit was the best I'd played with at international level, with guys like Mark Ealham, Dougie Brown and Matthew Fleming all chipping in, but to be honest, this doesn't stick in the mind like Surrey's Championship wins.
CHAMPIONS
Surrey v Nottinghamshire, County Championship, The Oval, September 2, 1999
Butch and Wardy knocked the runs off but this was about the whole season, not just this game, which was something like our eighth win on the trot. We'd been getting better, we'd won the Sunday League in 1996, and the Benson & Hedges in 1997. Then we were pretty close in the Championship in 1998, but in 1999 we were just exceptional. And we did it with all the guys I'd grown up with. I'd known Butch since I was 12, Wardy 14, Thorpey, Bickers, Brownie, my brother, Stewie. And I'd been a pro for 10 years. It was the achievement of a common goal and an amazing feeling.
RAW EMOTION
117* off 59 | Surrey v Sussex, C&G Trophy Quarter-Final, Hove, July 17, 2002
This was the day after Ben's memorial service. It was pretty brutal. That whole period of time was weird. They didn't really want me to play and I hadn't picked up a bat for so long but I just wanted to get out there. I told them to pick me, that I was going to do something special. I went out and played without fear, as if nothing really mattered. At this time in my life, nothing actually did. Two days later in the Championship against Kent I played a better knock, a hundred in about 90 balls [122 off 103], when I was stuck with Ed Giddins at the end. We ended up chasing down 410 to win in the fourth innings.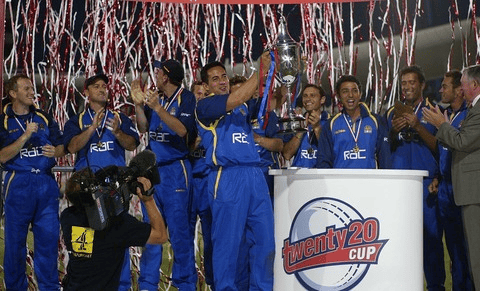 THE START OF SOMETHING BIG
2-27 | Surrey v Warwickshire, Twenty20 Cup Final, Trent Bridge, July 19, 2003
We were so far ahead of the other sides. We didn't lose a game of Twenty20 until Finals Day in 2004, the second year of the competition. We had better plans and we executed them really well. We quickly settled on a formula and once we got on a roll, we were very hard to beat.
MO'APRIL
106 | Surrey v Middlesex, County Championship, Lord's, April 21-24, 2004
At the start of the 2004 season me and Nad Shahid had a bet – we both grew ridiculous moustaches and could only shave once we'd got hundreds. I was skipper and I knew we were playing Oxford so I fancied my chances. But Ramps and a couple of others got loads and I hardly even got in! I batted terribly next game against Sussex and then against Middlesex I got going, got to 90 off about 80 balls and then I was so nervous it took me about the same to get those last 10 runs. I'd never been one for celebrations but I really celebrated then!