This article was originally published on December 21st, 2015.
Cricketers tend to be rather particular about their gear but sometimes it pays to mix things up a bit, write Jo Harman and Henry Cowen.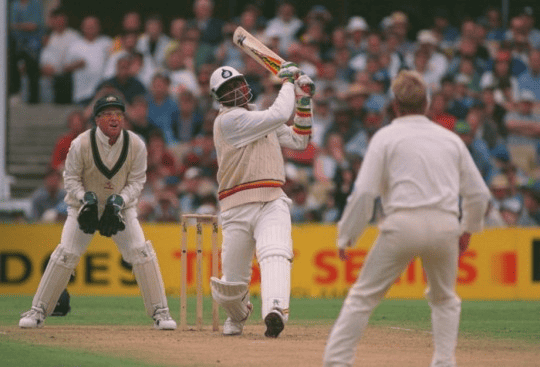 MALCOLM FINDS THE MIDDLE
He wasn't much of a bat, Dev Malcolm. He made two half-centuries in his 304-game first-class career and in Test cricket he averaged only 6 with a highest score of 29. That score came at Sydney in 1995 and it came, drumroll please, with a bat that didn't belong to him. There's every chance, knowing Dev's eyesight, that he'd picked up the wrong piece of willow but whatever was behind it, it worked, as he smashed rent-a-quote Warnie into the Sydney stands for a massive six.
THE WORM NOT RETURNED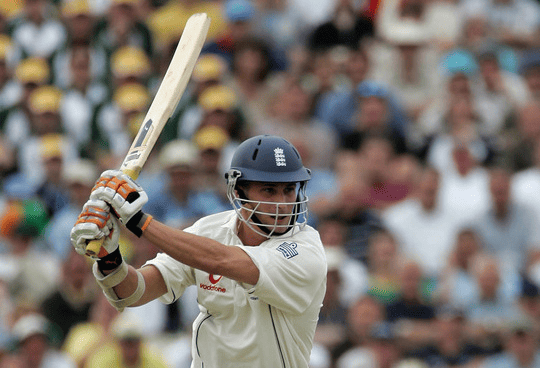 Simon Jones' virtuoso display of reverse-
swing in the 2005 Ashes has gone down in English cricket folklore but his batting cameos shouldn't be forgotten. Where would England have been without those frenzied last-wicket partnerships with Fred at Edgbaston and Hoggard at Trent Bridge? That glorious summer may have lost some of its sparkle. And whom do we have to thank for Jones' batting efforts? KP of course. Not much fancying his Puma stick, Jones nabbed one of Kev's back-up Woodworm blades and swapped the stickers. The bat, described by Jones as "an absolute gun", helped him to a series average of 33 – more than double his career record.
NOTTS A LAUGHING MATTER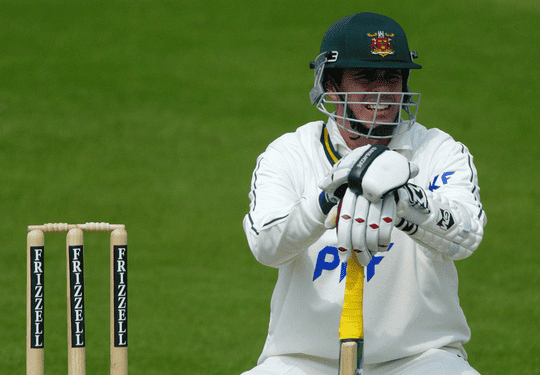 Jason Gallian was another who borrowed kit from Kevin Pietersen; only he didn't treat it quite as nicely. The Notts skipper, furious after Pietersen told him he was unhappy at the club and would be seeking a move, signed off the 2003 county season by reportedly hurling
 KP's bag from the Trent Bridge balcony and breaking his bat. "I got a call saying the captain had trashed my equipment," he recalled. Pietersen threatened to take Notts to a tribunal to force through his exit but eventually saw out the final year of his contract before moving to Hampshire. Everyone lived happily ever after.
SHIK'S NEW STICK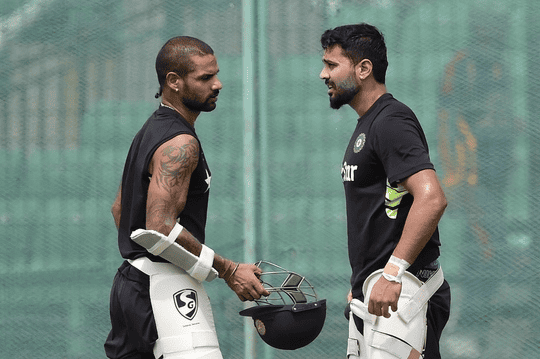 Having waited nine seasons for his first crack at Test cricket, Shikhar Dhawan's chance finally came at Mohali in 2013 in place of his mentor Virender Sehwag. Oddly, the Indian left-hander decided this was a good opportunity to try a new bat, having picked up one of Murali Vijay's in the nets and liking the feel of it. A few days later he and Vijay walked out to the middle to face Australia and shared an opening stand of 289, Dhawan blitzing his way to the fastest Test century by a debutant. Using the same borrowed stick, he went on to finish as top runscorer at the ICC Champions Trophy.
RUNNING THE GAUNTLETS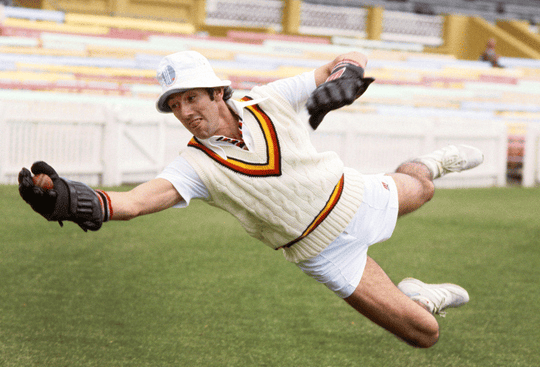 Stand-in wicketkeepers are always fun. Anthony McGrath did it at Lord's in 2003, Vikram Solanki tried it out at the World T20
 in 2007, and even Paul Collingwood had a go, at Chester-le-Street in 2009. But they were
 still professional cricketers – not yet retired, and not yet two glasses into their day in the corporates. Bob Taylor, as skilled as he may have been, must have been surprised to get the call during England's Test match against New Zealand in 1986. Bruce French was concussed so Taylor, 45 years of age and entertaining guests for Cornhill, was called for. He borrowed French's whites, nabbed his keeping gear from temporary stand-in Bill Athey, kept for the rest of the day and went on to meet the Queen.
SHIRT OFF HIS BACK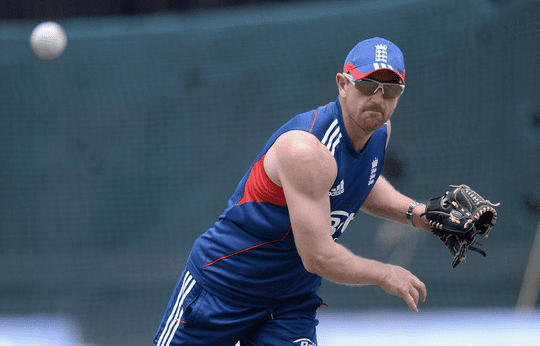 Dave Whelan – not that one – probably didn't expect to ever lend his England shirt to Paul Collingwood. The England fan, watching his side in Antigua in 2014, learned that his new red ODI replica shirt was needed by England's fielding coach Collingwood when the Durham man was pressed into stepping in as an auxiliary substitute fielder. Whelan duly obliged and his shirt – a Christmas present bought by his wife and only being worn for the first time – made its way to the England changing room.
BIFF'S BURGERS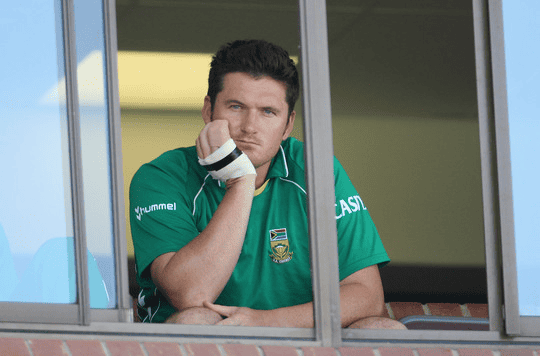 Arriving at the SCG for the final day of South Africa's third Test against Australia in 2009, Graeme Smith would not have wanted to bat. His side were one wicket down, needing to avoid being bowled out to save the game, and Biff was in the wars. He had a broken hand and a sore elbow that had required injections but, inevitably, with 8.2 overs to go, he strode out. Problem was, he hadn't bothered bringing his kit. With no alternative, he had to borrow Jacques Kallis' shirt and Paul Harris' burger sauce-stained jumper. Battered and bruised, Smith eventually fell to Johnson after a courageous 30 minutes at the crease but what a triumph of determination that natty old sweater played host to.
RAMPS IS A NEW MAN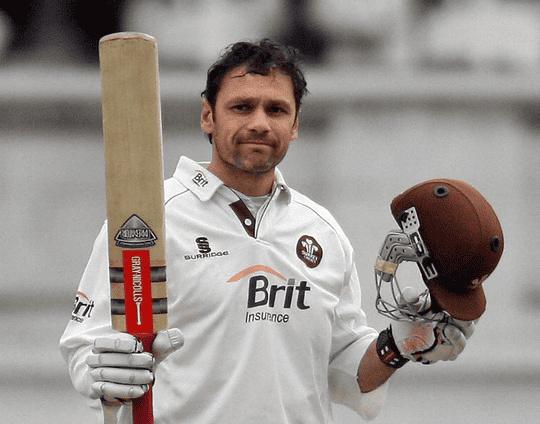 Mark Ramprakash was a well-known bat-obsessive, meticulous to the last in ensuring that everything was exactly as it should be with his blade. So when he broke his beloved Gray Nics shortly after hitting his 99th first-class century in 2008, a deathly hush enveloped the Surrey dressing room. The tension mounted
 as 10 innings went by without so much as a fifty, Ramps trying out five new bats before discarding each of them. It was only after borrowing a Gray Nics from his practice partner Scott Newman that he was able to break the hoodoo, hitting a ton at Headingley to become the 25th batsman – and very possibly the last – to score 100 first-class hundreds.
AN ABSOLUTE STEELE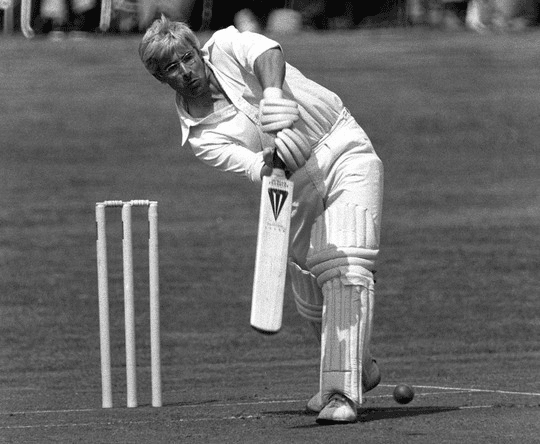 Nineteen-seventy-five was David Steele's 
year – and it's a year that demonstrates the importance of not having to borrow. The silver-haired fox, a kind of provincial Milk Tray Man, was in good form before his county Northants faced up against Sussex, captained by then England skipper Tony Greig. Unfortunately for Steele, his kit – including his new Fearnley – had been half-inched. He had to borrow kit and his form duly dropped; he would only score 7 and 8 against Greig's Sussex. But then, a week before his Test debut at Lord's, salvation: the thief called up, all guilty like, and offered to return his kit. The bank clerk had his weapon back.
PRIME BEEF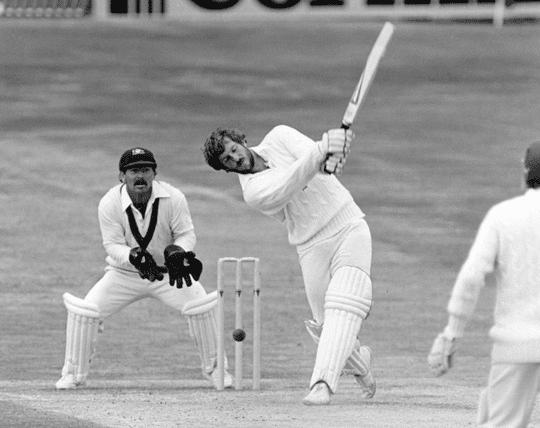 Botham was so good that he couldn't care less whose kit he got his sweaty macho beefy hands on. In 1981 at Leeds he bludgeoned the Aussies using Gooch's Duncan Fearnley, reasoning that "Goochie hadn't used it much in the match and I thought there were a few runs left in it". A few years later at Worcestershire, he nabbed one of Graeme Hick's cherished Fearnley 405s, got runs and ended up using it for the season; and he was so good that sometimes he didn't bother using anything at all. During a tour game for England in Australia in which he turned up catastrophically the worse for wear, he stumbled out of the gate and got halfway to the crease with England two wickets down, before a fieldsman pointed out that taking guard might prove tricky without a bat. With our hero still reeking of last night, England's 12th man ran the blade out to him, ushering Sir Ian to the middle, where inevitably and exceedingly Beefily he smashed a brilliant 70.