The article was originally published on May 1st, 2014.
The former England and Surrey strokemaker Mark Butcher speaks to Jo Harman about the moments that made him.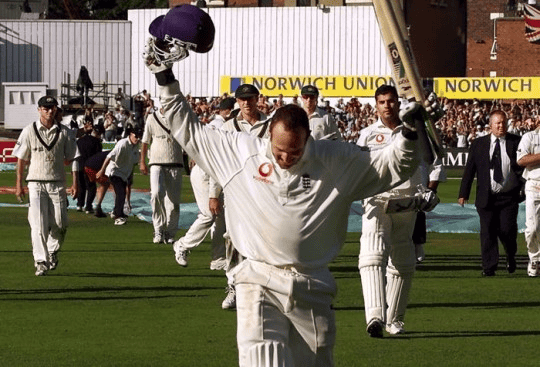 OPENING UP
127 | Essex 2nd XI v Surrey 2nd XI, 2nd XI Championship, Chelmsford, 1990
This was the first time I was ever asked to open the batting in professional cricket. Essex, who had first-team bowlers Mark Ilott and Steve Andrew in their side, set us 300-odd to win and I got a century and won us the game. In age-group cricket I'd always been a top-order batsman but when I came into the pro ranks I was usually in at No.7 and bowling more than batting. This was my first chance up the order and it worked like a charm.
THE TIMELY TON
153 | England A v The Rest, Edgbaston, 1997
I'd averaged mid-50s in 1996 and went on the England A tour to Australia with players like Michael Vaughan and Ashley Giles. I think I topped the averages on that trip – I remember a pretty good innings on a green deck at Adelaide against a young and very slippery Jason Gillespie – and we came back unbeaten. I made a hundred in the first game of the next season, although I wasn't really feeling in particularly good nick, and a combination of a good winter and that innings probably got me picked for England.
THE EARLY REPRIEVE
87 | England v Australia, Second Test, Lord's, 1997
As I walked to the wicket in the second Test it was being written up in the press as last chance saloon stuff and it was only my second match! I'd failed twice at Edgbaston and again in the first innings at Lord's but I got 80-odd in the second dig which probably saved my bacon. I was really gutted not to get a century. I was feeling really confident and tried smashing Warne over mid-wicket. I should have just tapped my way to a hundred.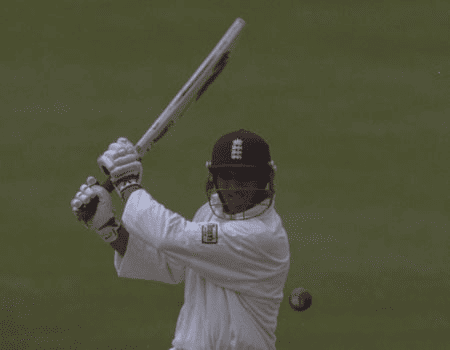 THE MATCHWINNER
28 & 24* | West Indies v England, Third Test, Trinidad, 1998
This is an innings I was incredibly proud of. It was a funny old series: I hadn't featured in any of the games on tour and then played in Jamaica when Jack Russell fell ill 15 minutes before the toss. I walked out at No.3, got a first-baller with one that hit the top of the handle of the bat, and the game was eventually abandoned. I was dropped and then came back for the following Test and batted at No.6. I wasn't very fluent and took plenty of blows but I batted for three-and-a-half hours against Walsh and Ambrose and made sure we won the match.
THE MAIDEN TEST TON
116 & 37 | England v South Africa, Fifth Test, Headingley, 1998
When I first got picked my game wasn't in particularly good order and this series was the first time I really transferred the way I played in county cricket into Test cricket. We were 1-1 going into the final match and they won the toss and stuck us into bat. I proceeded to literally plough everything off the middle of the bat for the best part of a day. We went on to win the match and the series.
THE TITLE CLINCHER
81* | Surrey v Notts, County Championship, The Oval, 1999
We had a couple of matches to go but we knew a win would seal the title. We were chasing 150-odd to win on a tricky pitch and we hadn't talked about trying to win the match that evening, but Ian Ward and I were going okay and a message came out from the dressing room that we were going to try and win it there and then. We were both quite annoyed so we started to play some huge shots and before you knew it we were absolutely flying and won the game with time to spare. It was a brilliant moment to win that first Championship for so many years.
THE CAREER CHANGER
84 | Surrey v Notts, B&H Cup Semi-Final, The Oval, 2001
After the summer of 2000 I'd become disillusioned and went away with Dad and changed my technique: my grip, my stance, my back-lift, everything. I had no thoughts of getting anywhere near the England side again; I just wanted to enjoy it a bit more. It was starting to come right when I made 80-odd in a televised cup match and England had several injuries at the time. I think I got recalled for the Ashes because of that innings.
THE INNINGS OF A LIFETIME
47 & 173* | England v Australia, Fourth Test, Headingley, 2001
I'd got back into the side totally unexpectedly but I was going to be dropped for Headingley until Nasser managed to change [Duncan] Fletcher's mind. I was out later than I ought to have been during the Trent Bridge Test but Nasser pointed out I was the only bloke to have made a score in the series, so I lived to fight another day. The weather intervened and Australia declared; McGrath cleaned up Athers early, as usual, and it was a hairy first session with the ball swinging all over the place. It was the best I ever batted for England. I'd got picked for no real reason other than injuries and I ended up flaying the best bowling attack in the world around the park. The whole summer was a fairytale for me. I decided if I was going to have another shot at this, I was going to have as much fun as possible. The whole thing was incredible really.
THE FACE-SAVER
124 & 34 | Australia v England, Fifth Test, Sydney, 2003
We'd had a New Year's party on a boat on Sydney Harbour and the game didn't start until the 2nd, but I'd probably had a few too many. It was a scratchy innings and I had a few let-offs but it was my third Ashes ton and I'm pretty proud of that. The Aussies had been hammering us and this was a brilliant win, particularly for the supporters who were always fabulous away from home. They roared us on all the way.
THE FOND FAREWELL
60* | Surrey v Kent, County Championship, The Oval, 2009
I remember thinking this would be the last game I played. I limped to the wicket in the second dig and Rob Key, being the smart arse that he is, stuck all the fielders on the single, knowing I couldn't knock it into the gap and run. But I made 60 and saved the game for us. I was probably as good a player as I'd ever been but my knee was absolutely screwed after four operations. I had one last look as I wandered off and thought 'That will be the last time I do that'. I wouldn't have been happy if I'd finished it anywhere else but The Oval.