This article was originally published on All Out Cricket on August 17th 2015.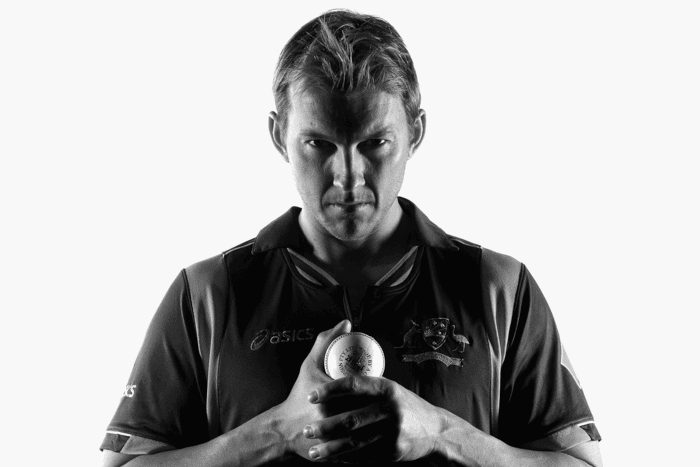 As comfortable in the commentary box – and indeed with a guitar – as he was on the field, former Australian star Brett Lee is a man of many talents. He goes Under The Lid with Jo Harman.
By any definition, Brett Lee has never been an ordinary cricketer. He was one of the very fastest bowlers of all-time with a preternaturally fluid action and release which fast-bowling coach Ian Pont described to AOC as the closest he's ever seen to perfection.
Lee played into his 39th year – unique for a bowler of his type. Perhaps most unusually, he was a likeable Australian fast bowler. Even English fans couldn't help but warm to him despite the cracked ribs and broken hearts.
What has really marked him out, though, is that cricket has never been his be-all and end-all. While teammates would be obsessing over their latest performance or upcoming opponents, poring over video footage and data analysis, Lee would reach for his guitar. Eoin Morgan, a former teammate of Lee's at Kolkata Knight Riders, told AOC: "I played with him for three years at the IPL and growing up his thing was being the lead singer of a band. He wanted to be a rock star. All of a sudden he's become this world-beating cricketer but he certainly wouldn't be someone who'd sit down and watch a game. He'd rather go to his guitar and sing a song."
An Ashes summer means silly season for press junkets. Everybody seems to have something to flog, be it a book, DVD or a 'new steakhouse concept' (you'll never guess who they got to launch that one…). But today's press conference in west London, on the eve of the Lord's Ashes Test, is a bit different. Lee, whose son suffered temporary hearing loss after a head injury, is here to be announced as an ambassador for a company that manufactures life-changing hearing implants. Sitting beside him at the press conference is a keen cricketer who recently had one of these implants fitted. He'd been profoundly deaf since an illness in his teens but now, in his fifties, he has "discovered a whole new world of sound". Later today Lee will visit a deaf elderly lady in Cambridge to witness her 'switch on' – the moment the implant kicks in and restores her hearing after years of silence. This beats a steakhouse concept hands down.
It all adds to this sense that Lee exists outside the usual parameters of most cricketers. AOC asks whether he thinks having such a wider perspective helped him as a player. "Yeah, I think so. I always had other interests and music in particular was my outlet away from sport. I knew that if I'd had a bad game I could go back and get the acoustic guitar out that night and play a couple of songs to get me back in the right mood again. That was my outlet and I think a lot of players struggle day-to-day because they don't have a lot of other interests away from sport."
Lee called time on his playing career in January and says he isn't missing it at all. He's by no means short of career options and will be making his silver screen debut later this year, playing the lead in 4.5million Bollywood rom-com UnIndian. He sings, he dances and will no doubt be on the receiving end of some ribbing from his former teammates and opponents. He's heard it all before, though, having already stuck his head above the parapet by recording a duet with Bollywood dame Asha Bhosle in 2007.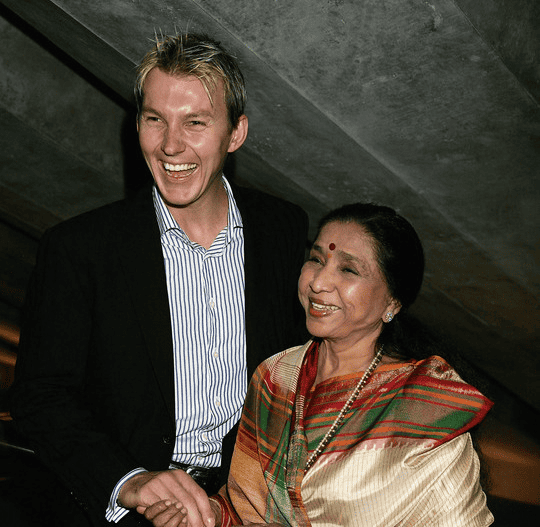 "I just ask them how many hit singles they've had in India!" he says. "I've really enjoyed the whole acting thing and it's not so different from what I'm used to. I've been almost doing that for 20 years playing cricket. You are a bit of an actor, a bit of a showman, when you go out there onto the field. You're playing a role and you want to make sure that when people come and watch you play cricket, that they enjoy themselves."
---
Lee, who's written the main track for UnIndian, says he's keen to record more music and go on tour with his band, but he's not leaving cricket behind. He's now part of the Channel Nine commentary team in Australia, a strange career path given that he's previously described watching cricket as "boring". What's changed?
"It is quite ironic that as someone who hasn't watched a lot of cricket I'm now enjoying working with the commentary team. But when you step away from the game and you know there's not that pressure of going out there and playing anymore, you do appreciate it a bit more. I'm enjoying watching a lot of cricket without having to worry about strapping on the boots."
Various tracks on offer throughout this Ashes series have raised debate and Lee was miffed by the sluggish first Test pitch at Cardiff; he fears for the future of fast bowling if tracks without pace and bounce become the norm. "The pitch in Cardiff was so unresponsive, it wasn't conducive for fast bowlers. That's not healthy for the game. The ideal Test match wicket is one where there's a bit in it for the quick bowlers on day one; it flattens out day two; day three, day four is when you score your runs; day four-and-a-half, day five is when the spinners come into play. I've always felt that's the best formula for a Test wicket, otherwise what will happen is you'll see guys bowling 130kph seam-up and then the spinners come straight on."
In general, though, Lee is confident that we'll continue to see high-quality fast bowling in Test cricket, despite the temptation of a hefty pay packet for a considerably lighter workload in Twenty20. "If you go back right to the start of cricket, it's always been hard to be a fast bowler, because the workload's incredible. Even in a normal one-day fixture you're covering 17km in a day as a fast bowler. Then there's the counter-rotation, hyperextension, the extreme amount of pressure going through your body. That's why not everyone can be a fast bowler.
"But I loved the training, I loved how hard it was. The fact that you're always on the edge, skating on thin ice, because you know you're only millimetres from doing your ankle, tearing your hammy or hurting your back. People are born with that will to succeed and people are born who'll take the easy option. I wasn't an easy-option person. I wanted to do the hard yards and I'm sure there are a lot of other players out there who want to do the same."
There's no shortage of young fast bowlers in Australia prepared to take up the challenge. Lee has plenty of good things to say about two former New South Wales teammates Mitchell Starc and Josh Hazlewood, but it's a third that he reserves special praise for.
"Pat Cummins is more than special. He's an absolute freak of nature, and I mean that in the nicest possible way," he says of the 22-year-old right-arm quick. "He's got so much to offer. He bowls at 145-150kph and swings the ball both ways. Everyone's saying 'he's injured, he's this, he's that', but if you look at any young quick coming through… I had two back injuries, broken backs, by the age of 23. I had ankle surgery. Every young bowler gets injured, that's just the way it is. His body is just getting used to all the hard work he's got ahead of him. If he does get an opportunity in this Ashes series, I think he'll do very, very well."
---
No one has ever bowled as fast for as long as Brett Lee and it's fascinating to hear him describe the mechanics of being an express quick. He's wary of young bowlers being over-coached – concerned coaches do it "almost as a job justification" – but says he was tinkering with his action right up until the very end of his career, which comes as a surprise given how natural it always appeared.
"Up until the last four overs I bowled in my last competitive match at Canberra [taking 3-25 in the Big Bash Final including two-from-two in the final over of the match, only for a fluffed run-out chance of the last delivery to deny his Sydney Sixers the win against Perth Scorchers], I was in the nets after we'd batted and I was still working on my action. Every single day you work on your action because there is no such thing as perfection. Your action is never going to be perfect, what you try to do is get your action as close to perfect for your body type and your structure as you possibly can. I was working on my action every single day when I went into the nets."
And what of the fast-bowling psyche? Does the man who fractured Piers Morgan's ribs in the MCG nets think it's necessary to intimidate a batsman with verbal sprays and body language? Is a nasty streak a prerequisite for a quick bowler? "It's not a nasty or a mean streak a fast bowler has to have but he has to have some type of aggression. Controlled aggression is probably the best way to describe it. You can see those bowlers that have got too much out-and-out aggression and that overpowers the way they play. So you have to be smart about it.
"Intimidating a batsman doesn't necessarily mean a verbal spray. It can be a number of short balls in order to take his wicket. Intimidatory bowling – that's fine. It's part of the game and you push those boundaries as much as you possibly can to try and take the batsman's wicket, so long as you're staying within the spirit of the game."
Lee won many admirers, including opponents and opposing fans, for upholding that philosophy during his playing career. Ten years on from the 2005 Ashes, English fans still remember him fondly for his starring role in that series. He played lead in so many of the unforgettable scenes – tragic hero at Edgbaston, scourge of England at Old Trafford, conquered action hero at the Oval – and his performances in each captured the essence of that series.
Now, with the boots removed and a post-playing career full of possibilities ahead of him, Brett Lee remains as box-office as ever.