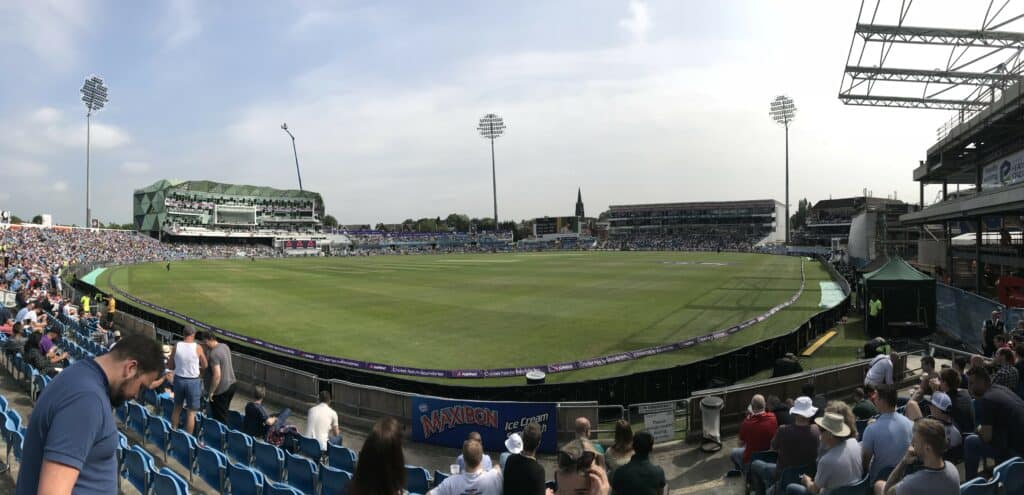 Headingley has hosted a number of amazing test matches in recent years, as well as country cricket and one-day formats of the game.
Headingley is a suburb of Leeds, making Headingley one of the grounds in the north of England. It is pretty well-connected to other cities and towns and the city of Leeds has a real appetite for cricket, meaning it is often a lively ground to see cricket.
Key Facts
The key facts regarding Headingley Cricket Ground and how to get there are:
Capacity: 18,350
Address: Yorkshire County Cricket Club, Headingley Stadium, Leeds, LS6 3DP
Teams: Yorkshire CCC, Yorkshire Vikings, Northern Diamonds and Northern Superchargers
Information About Headingley Cricket Ground
Headingley is a historic and interesting ground, with a fascinating history. Lord Hawke, one of the key forces in establishing a County Cricket Club in Yorkshire, led a group of benefactors to commission a stadium that was going to be used for cricket, but also football, tennis, bowls, rugby, and cycling. The idea of going to Headingley to see someone play bowls seems crazy now, but was the initial idea behind the ground.
Yorkshire did exist before the development of the stadium in 1890. Then, they played matches all over the county but used Bramall Lane in Sheffield as their second home. In fact, this continued until 1973, and cricket matches would regularly take place at Bramall Lane, Sheffield.
Like a lot of the grounds on the list, this has gone through a lot of redevelopment over the years. In 1932 the main stand was destroyed in a devastating fire. It was replaced by a stand that was in place until 2018 when it was knocked down for new development.
The Carnegie Pavillion, an impressive part of the ground, was completed in 2010.
Headingley Developments
If you've seen cricket at Headingley you will know that there is often work taking place at the ground. The facilities are still fantastic, but there are constantly improvements that are taking place.
The developments that have been undertaken already are:
Phase one – the erection of four floodlights.
Phase two – the rebuild of the rugby ground end in conjunction with the redevelopment of the North Stand on the rugby side.
And still under development are:
Phase three – the creation of 915 more seats in the north east corner.
Phase four – the development of a five level new pavilion, members long room and dressing facilities to sit over the existing north west corner adjacent to the Carnegie Pavilion.
Phase five – A cantilever roof to be erected for the White Rose Stand.
Phase six – landscaping on the White Rose Stand and North East concourses.
What's it Like to Watch Cricket at Headingley?
Even though the ground is being redeveloped all the time, watching cricket at Headingley is a fantastic experience, and the facilities are very good.
Cricket is the main attraction, of course, but there are some other events that take place in the stadium. British band Madness performed there in 2015 to a pretty big crowd (over 7,000 people).
In terms of the cricket teams you can see there, there are many options.
Test Cricket
Headingley has seen some of the most iconic moments in English cricket history, especially in recent decades. A lot of people enjoy watching test matches more than any other form of the game, even though it can be tricky to get to all five days of a test.
A lot of the English test series include a trip up north, and many of the games are played at Headingley, including Ashes tests when England take on Australia for the coveted urn.
One Day Internationals
ODI cricket is also very popular, and unlike going to a test match, you can see a whole game played out to its conclusion.
England play a lot of ODIs at Headingley as well as T20s, so when a nation is touring the UK, there is a good chance you can get to a game if you live in Leeds. Failing that, it is around an hour to Manchester.
County Championship
Yorkshire County Cricket Club are one of the best-known cricket teams in the whole of the English game, and they have an incredible record in the County Championship throughout history. They have won an incredible 32 times including one shared trophy. The earliest win was in 1893, with successful periods in the 1920s, 1930s, and 1960s in particular. They also won back-to-back titles in 2014 and 2015.
County Championship games are rarely sell-outs, so there is a good chance to get tickets for those who want to.
Domestic One Day Cricket
One day cricket is also played domestically, and the Yorkshire Vikings compete in one-dayers as well as domestic T20 cricket. This is the name of the franchise run by Yorkshire CCC. There are usually tickets available for those who want a taste of one-dayers.
The Hundred
The Hundred has a brilliant atmosphere and Headingley is a great place to see matches. It is the home of the Northern Superchargers, with both a men's and women's team. The Superchargers women lost in the final of 2023's competition.
Food and Drink
Headingley has a lot of different food and drink options on the concourse. This is the same for most major cricket grounds now, and there are many different vendors that people can choose from.
There are always vegetarian and vegan options, as well as gluten-free food. There are alcohol-free drinks served at the bars and stations to refill water bottles.
Most of the vendors are behind the Western Terrace, and the food and drink options include:
Falafels (Vegan)
Ice Cream Shop
Street Kitchen
Southern Fried Chicken (Halal)
Fish and Chips (Gluten free options are available on request)
Loaded fries and toasties (Vegetarian options available)
Hog Roast
Baguette's (Vegetarian options available)
Scampi
Pizza
Sausage Box
Ball Box – a Yorkshire street food vendor (vegetarian options)
Curry
Ice Cream
Getting to Headingley
Getting to Headingley from Leeds is very easy.
Buses from the centre include:
Service 19 and 19A – buses every 15 minutes
Service 56 – buses every 10 minutes
There is a specific Headingley journey planner.
Headingley Station is on the Harrogate Line. It is a 10 minute walk from the ground, there are trains every 30 minutes from Leeds Central Station. If you want to go to Leeds Central station you can get a taxi (around 10 minutes).
Burley Park Station is also on the Harrogate Line and is a five minute walk from the ground, so it is usually the best option if you can get there.
Where to Sit
Headingley's site provides a map of the stands.
Either of the Pavillions give a fantastic view, and there is a family stand which is perfect for those taking children. This is nowhere near as rowdy as the opposite Western Terrace.
If you're going for a noisy atmosphere, dressing up, and enjoying the party element of the cricket then the Western Terrace is likely to be a good option for you.
The East Stand is more relaxed and gives a side-on view of the action.
You can see there are also many facilities on site such as a cricket centre, ticket office, sensory room and multi-faith room.
All areas of the ground still have plenty of facilities to offer.
Notable Matches at Headingley
There have been many famous matches played out at the ground, but two stick out above all the rest.
1981 Ashes Series – Botham and Willis Drag England Back From the Brink
Ian Botham's legendary status in Ashes Cricket is largely down to some of the incredible spells he pulled out of the bag with both bat and ball.
In 1981, he took England from the brink of defeat, scoring 149 not out and giving England something to protect. Bob Willis took the stage with the ball and England won an incredibly unlikely victory. Gooch, Gatting, and Gower batting above him had all managed scores under 10.
Willis took 8/43 with the ball to cement the victory in the final innings. It is said that some bookmakers would give odds of 500/1 on an England win at certain stages of the match, which goes to show just how incredibly unlikely it was.
2019 Miracle at Headingley
In 2019, the Ashes Test at Headingley started well. England bowled Australia out for just 179, but a dismal performance with the bat in the first innings saw England all out for a paltry 67. Australia made 246 in their second innings leaving a big chase of 359.
When Stokes was out to bet England were 141/3 and Joe Root was in with him, but Root, captain at the time, got dismissed very quickly.
Bairstow made 36, but four other batsmen were then torn through by the Aussie attack, leaving England needing 73, when Stokes was joined at the crease by Jack Leach.
Stokes smashed sixes and fours, playing unorthodox shots and sending Nathan Lyon's bowling flying round the park. He hogged the strike where possible but Leach still saw his share of deliveries. He famously ended on 1 not out, defending stoutly to allow Stokes to score the unlikeliest winning runs.