The post was originally published on All Out Cricket on August 6th, 2015.
Mark Wood offers something a bit different for England, both on and off the field. The fast bowler has barely stopped smiling since he began his Test career, whether England have been on top or not. In many ways, he personifies this new-look side: he's exciting, likeable, and raw. In the new issue of our magazine, he speaks to Henry Cowen about having fun, entertaining, overcoming injury and winning the Ashes. Here's a preview of that piece.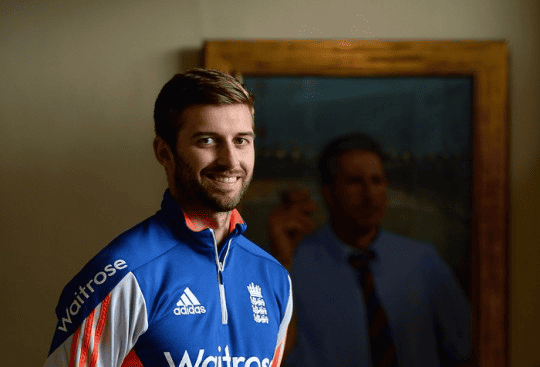 You think they'd be smiling in some of these portraits!" We're navigating the polished corridors of Lord's with a laughing Mark Wood, two days before the second Ashes Test, and he can't fathom why the canvassed great and good of English cricket look so glum. He's just finished signing a huge stack of team photos – "your signature starts strong but you lose it towards the end, you've got to try and power through" – and, having been asked by us to clown around for his photos, he's now asking anyone and everyone if they know anything about juggling. They don't, he doesn't, but he's still laughing.
He's a bit different, is Mark Wood. An Ashes summer always needs its fair share of narrative and the smiling Ashington smasher with the imaginary horse – who's come into the England side from nowhere – is doing his bit to add some real human interest. Very few new England players have made such an impression upon joining the team, fewer again seem to have enjoyed it as much as Wood.
"Why wouldn't you enjoy it?" he asks, almost incredulous. "You're playing international cricket for England! It's every lad's dream. You go in the back garden with your dad, you play England v Australia, you do all the actions… this is all I ever wanted to do."
---
He'd be excused the smile at this point. England are 1-0 up and everything's rosy. The thing is, he hasn't stopped smiling since he first appeared in an England shirt and you get the impression he won't be stopping any time soon – however this Ashes series ends. Wood's enthusiasm and enjoyment of the challenge are apparent, and it's welcome.
"I think the atmosphere of international cricket gets me going. In the first Test at Cardiff the Barmy Army were singing, 'Stand up if you're 1-0 up!' and I couldn't help but laugh. I tried to keep my professional face on! I haven't heard a song for me yet but the trumpeter plays the Blaydon Races when I come on and that'll do!
"I love trying to keep the crowd entertained, it's an entertainment business. I'm sure people can relate to you more when you're wearing a smile on your face, you look like you're enjoying it and you look like you want to be out there – that's what I try to do."
His rise within the England set-up has been in sync with the team's own reclaiming of something a bit different, something a bit fun. His first senior tour saw him head to the West Indies, but he wasn't picked to make his debut and England's flat performances on two flat decks made for a flat tour that saw head coach Peter Moores lose his job.
Since then, it has felt like something's changed. It hasn't all been victories and champagne but, having started anew, England have approached this summer with a new emphasis on being aggressive and entertaining. We're only 15 months on from a time when it felt like cricket in England and England's cricket fans were further away from each other than ever: the team were losing matches, everyone was under pressure, there was talk of 'inside cricket' and 'outside cricket' and, even, some nascent Twitter-talk about boycotting Test matches.
Wood's debut came in the bar-emptying thrash-off against New Zealand at Lord's – on the final day, crowds queued to get in to watch England win. Then of course we had that ODI series. Then there was the Cardiff win. England haven't won every game this summer, but there has been a sense of a reconnection.
"I think it's a different mindset," says Wood. "I think Paul Farbrace deserves a hell of a lot of credit. When, unfortunately, Peter Moores got sacked, he took over and just seemed to freshen us up a little bit. The way he talked to me, certainly, was basically to express myself and be myself. That just gives you the confidence to go out there and think, 'No matter how this day goes, the coach has just said to enjoy it' and if you enjoy the day then anything can happen.
"I think you always play better when you play with a smile on your face and I think that's definitely evident from the way that I like to play. I like to have fun and I think that's the way that we're doing it as a group, we're just trying to enjoy it and have an attacking mindset. There are obviously times when you need to be defensive but this 'New England' that people keep talking about, I think it's just a little change in our mindset that has worked for us."