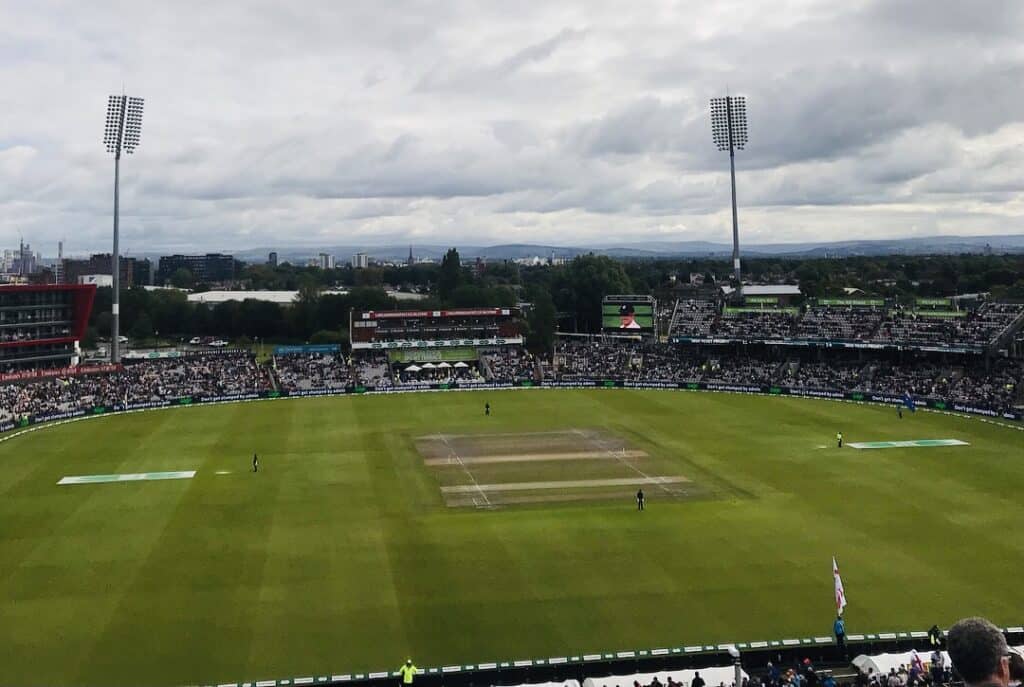 Old Trafford is one of the iconic grounds in English cricket. It's the second oldest cricket venue in the country and is a regular host of England test matches.
Initially, the ground was opened in 1857 and was then the home of Manchester Cricket Club, but it became the ground of Lancashire County Cricket Club in 1864. The stadium is sponsored by Emirates and has been for a decade now.
Key Facts
The capacity of the ground is as follows:

Domestic: 19,000
International: 25,000 (with temporary stand)
Concerts: 50,000

Address: Emirates Old Trafford, Lancashire Cricket, Talbot Road, Manchester, M16 0PX
Sponsor: Emirates
Information About Old Trafford
As we've discussed, the ground was first built in 1857, making it one of the oldest cricket grounds (and therefore sports grounds) in the world. Old Trafford hosted its first Test match in 1884 when England played against Australia. Since then, it has been a regular venue for international Test cricket.
Through most of the history of the stadium, there has been some sort of development. Notably, a decision was made to construct a new pavilion which was completed in 1895. The historic and iconic pavilion has undergone redevelopment in recent years and is now used for corporate events as well as watching the cricket. It is where the executive boxes are situated as well as various other facilities.
Like many of the top cricket grounds, Old Trafford has seen a lot of focus on corporate developments, and at the 2023 Ashes series they launched the new Hilton Garden Inn hotel extension which turned the main hotel on-site into a 250-bedroom building which also includes an event space called The Edge, where events can also be held.
Old Trafford also has an award-winning space called The Point which has amazing
panoramic views of the world-famous pitch and stadium. This can be used for a huge number of different purposes.
"Whether you're planning a conference, exhibition, wedding, or an exciting product launch, then our team of experts is ready to deliver an unforgettable experience for you and your guests."
What's It Like to Watch Cricket at Old Trafford?
Most of the people reading this guide are more interested in the experience of watching cricket at Old Trafford, rather than the corporate facilities. Sure, it is fun to get married there if your partner allows, but the cricket is what it is all about.
Pretty much every type of cricket can be watched at Old Trafford. The elite level of international cricket means that the England team tends to play at Old Trafford during an international series. This is great for those who live in the area, but the prices can be a little more expensive. Other types of cricket you can see at Old Trafford include:
International One Day Cricket
Both men's and women's ODIs and T20 matches are played at Old Trafford, and there have been some incredible 50-over and T20 games played at the ground over the years. The venue has even been home to the cricket world cup.
County Championship
Lancashire County Cricket Club have won nine County Championships. They've seen some iconic players line up in their county team including James Anderson (who has his own end named after him at the stadium). Other Lancashire players include Glen Chapple and David Lloyd. Keaton Jennings is the current captain.
Domestic One Day Cricket
The domestic teams in the T20 Blast and 50-over formats of the game compete as Lancashire Lightning.
The Hundred
Manchester has been one of the cities to embrace The Hundred cricket. Manchester Originals have teams in both the men's and women's tournaments.
To check all of the upcoming events, you can head to this section of the Old Trafford website which lists all cricket fixtures in different tournaments.
Environmental Initiatives at Old Trafford
It is important before you go to the ground to understand the environmental initiatives that were put in place in 2022.
Their ambition is to minimise wase, use electricity and energy from renewable sources, and become a net zero venue.
This means that all takeaway food containers should be eco-friendly and recyclable, food waste is composted, and recycling is very important. Be sure to comply with the initiatives when you visit.
Food and Drink
"Emirates Old Trafford uses local food suppliers and local sourced food."
They are also committed to using seasonal produce and catering for dietary and religious needs when it comes to food and drink. There are halal and vegan options on site for every match day.
The alcoholic beverages are subject to change, but Old Trafford is one of the grounds that has installed self-service systems for beer, and you could get Amstel from these machines in 2023.
Can you bring your own food and drink at Old Trafford?
For domestic fixtures, you can bring food and soft drinks. "Food and drink can be brought into the ground, however, all bags and picnic hampers will be subject to being searched to ensure the safety of players, spectators and staff. No alcohol, glass or can containers will be allowed into the ground and drinks will be limited to 75cl."
Getting to the Ground
From Manchester City Centre, trams are one of the easiest way to get to the stadium.
Trams on the Altrincham line operate to Old Trafford which is next to the stadium but they get very busy so some choose to use alternate routes. These stations are all walkable to the ground:
Firswood: A 10-minute walk away.
Wharfside: A 15-minute walk away.
Exchange Quay: A 20-minute walk away.
There are also trams from the train station, so if you have come from further afield then you know you can get from the station to the ground, which is not in the city centre.
There are numerous car parks run privately which tend to be busy on test match days, but very few spaces available at the ground itself.
Traveling via bus is another option. Transport for Greater Manchester has the latest bus timetables and information on how to reach the ground.
Map of Old Trafford
This map of the ground shows you all of the stands as well as the hotels nd the media centre around Old Trafford, plus the James Anderson End and Brian Statham End of the ground.
As with all cricket stadiums, it is worth checking out which stands are the best views as well as which have certain rules. For instance, attendees must be 16 or older for the party stand.
Stand A –The stadium describe this as the cricket lovers' stand, you can get great views from behind the bowler's arm through to mid-wicket.
Stand B – This is described as the family stand, perfect for families to visit together without too much of a rowdy atmosphere.
Stand C – This is the closest to home dressing room at Emirates Old Trafford next to the party stand.
Stand D – The party stand. All attendees in Stand D must be aged 16 years or over for all fixtures.
Stand E – This is next to where the pavilion seats are situated and they are some of the best views in the whole stadium. This is represented in the price of tickets.
Notable Matches
Ashes 1981 – England vs. Australia
This match is famously known as "Botham's Ashes" due to Ian Botham's heroics. In the third Test of the series, England was facing a daunting follow-on target, but Botham produced an astonishing all-round performance, scoring a blistering century and then taking five wickets to help England secure victory.
Ashes 2005 – England vs. Australia
The 2005 Ashes series was one of the most closely contested and thrilling series in Ashes history. The fourth Test at Old Trafford ended in a dramatic draw, with Australia holding on for a draw with just two wickets remaining, but England would go on to regain The Ashes that year.
England vs. West Indies 2004 – Test Match
In this Test match, England's fast bowler Andrew Flintoff produced a memorable all-round performance with six wickets and hitting a six for the winning runs. Graham Thorpe was the player of the match with his century, and England looked imperious as they saw off a sub-par West Indies.
Ashes 1956 – England vs. Australia (Jim Laker's 19 Wickets)
It's fair to say you've had a decent test match if you have these kinds of match figures. Laker took 19 of the 20 wickets. Jim Laker set a record by claiming all 10 wickets in an innings, as he finished with spectacular figures of 19 for 90, England smashing Australia in this test match and winning by an innings and 170 runs.
In 1999, Anil Kumble equalled the Jim Laker record of 10 wickets in an innings, but nobody has got 19 in a match other than Jim, for now.
Old Trafford is an iconic ground. Expect it to be busy for test matches but there are plenty of opportunities to see cricket at the stadium for locals, watching Lancashire or the Manchester Originals.