This article was originally published on January 16th, 2014
Ahead of the 1997 county season, Surrey recruited two spinners – one from the Punjab, the other from Hove – who would spearhead the club's most successful period in 40 years. Here, the "spin brothers" look back on their glory days spent together at The Oval, in an interview with Jo Harman.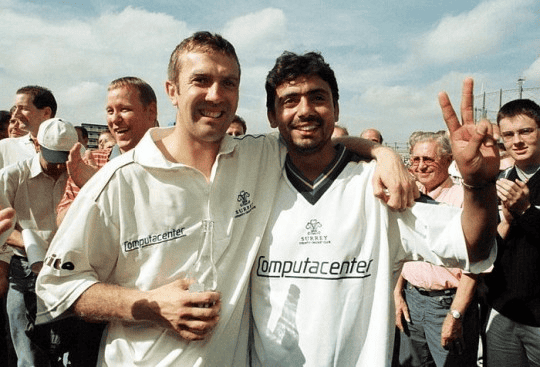 How much did you know about each other when you both signed for Surrey in 1997?
Ian Salisbury: I knew a little bit about Saqi but not very much. Nowadays we'd know what he likes for breakfast but back then we didn't know so much – world cricket wasn't covered as closely as it is now.
Saqlain Mushtaq: I had watched Ian play against Pakistan in 1992, so I knew him from that. Surrey's captain Adam Hollioake and the head coach David Gilbert told me the plan when I arrived. He said that they had two spinners – Ian Salisbury and myself – and we discussed what is Ian's role and what is my role. They said that we would be partners – that we would play all the games together and work as a partnership.
Did you immediately strike up a friendship?
SM: From the very first day he was my partner, my mate. We used to travel together every day and he used to come to my place to pick me up.
IS: I was living in Fulham at the time and Saqi was living there too so David Gilbert asked the two of us to pair up. Saqi's from a village on the outskirts of Lahore and his English was very basic so I helped him get to the ground – that kind of stuff. I started off by picking him up but eventually he had his own car and then he would follow me.
SM: There are lots of stories of me driving for the first time in London like a Pakistani mad guy, not using any indicators!
IS: I remember the first time he followed me, we made it as far as the first roundabout at Fulham Broadway and he pulls out in front of a bus and there's just carnage behind me. He was just sat there with his hand up apologising! Then there was his first time at the petrol station… He said his dashboard had been flashing an orange light for about three days so I suggested he might want to put some petrol in his car. He stops at the first pump, people are beeping their horns, and he doesn't get out of the car! I go and help him, then we go in to pay and it turns out he doesn't have his credit card. Then he goes, "Will this do?" and pulls a wad of cash out of his pocket that, at a conservative guess, must have been about £5,000 in £50 notes! Everybody was staring at us. We paid and made a quick exit! This is how we travelled around London…
Saqi, was the fact you could only speak basic English when you first arrived an issue in the Surrey changing room?
SM: Obviously Pakistan was a totally different culture, a totally different place, but it was like a family sort of atmosphere in the dressing room and we mixed together very quickly. They helped teach me English in the dressing room actually.
IS: Saqi would learn his English from reading newspapers and listening to us in the changing room. It was great fun teaching him words – some good, some not so good!
SM: Ian is a lovely man but I have one complaint. Me being a Pakistani, the English sense of humour is sometimes difficult to understand and Salisbury – who is a very jolly person – and Ian Ward, they used to give me bad words to say to the coaches and other players. When our club president Mickey Stewart came into the dressing room Ian told me this word, which I can't repeat, to say to Mickey. Mickey said, "How are you Saqi?" I said "Fine" and then repeated this word. Mickey looked very surprised and asked me where it came from. There were a lot of rude words… I can speak English really well now though so you can't pull my leg any more!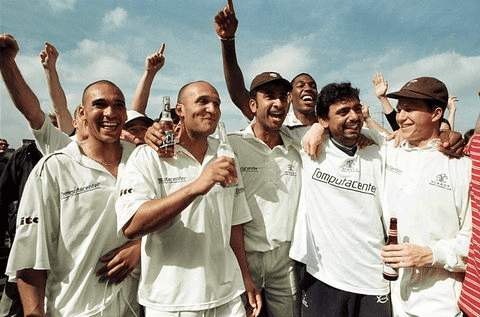 Was there a clear plan that whatever the conditions, the two of you would both be fitted into the team?
SM: Yes, actually that was a very clear plan. Many times we used to go up north – to Yorkshire, Lancashire or Durham – and we could have brought a seamer in but we never did that. We never dropped a spinner.
IS: Saqi was playing a lot of international cricket, his record was through the roof for Pakistan, and he very rarely got to us early season. I used to think, 'You lucky git!' So there I was, trying to protect my fingers in the cold, hanging in there, and then he'd turn up and all hell would break loose! I had to take my wickets quickly with Bickers [Martin Bicknell], [Alex] Tudor and Jimmy [Ormond] first up and then Saqi to come on. I remember a game against Derby when I was on a hat-trick after taking the first two second-innings wickets and six overs later I took my third wicket, which was the last wicket of the game. Saqi had taken 7-15!
What made Saqlain so special?
IS: He was an amazing bowler. For anybody to invent a ball after the game's been going for more than 100 years is a genius in my eyes. He turned up at Surrey with the doosra having learnt it playing street cricket with a tape ball. Saqi had big hands, a strong action and had this ability to spin the ball both ways with maximum accuracy. He was very powerful too – I remember him doing one-handed press ups. He also had a very good cricket brain.
SM: When I signed for Surrey I had lots of tricks and skills but I had not that much experience. I learned a lot by talking to Ian on and off the field – I picked his brain. I really liked the way he started a spell. He would take his time, he used to feel the rhythm and he would set a batsman up before finding the best time to attack.
Was Ian unlucky not to play for England more than he did?
SM: I think unlucky is a small word. He was far better than the England selectors thought. I remember when I played against Ian for Pakistan in 2000/01 and we were sitting in the dressing room having a team meeting. The topic of Ian Salisbury came up and all of our batsmen said his wrong 'un is very difficult to pick, that we had to be careful and we had to respect him. He was very competitive, a wicket-taking bowler, and had a lot of knowledge about the game. I don't know why he didn't get enough opportunities for England.
IS: If I dissect my career, when I was valued and felt like people loved me then I performed. At Surrey we were appreciated and made to feel like kings. Our gameplan was about setting it up for the two of us, and we'd deliver. I think Saqi was the same in terms of how he was valued in his home country compared to here at Surrey.
SM: Surrey was a haven for us.
And the results bear that out, with three County Championship wins between 1999-2002 and the two of you sharing 415 first-class wickets across those four seasons. What were some of the highlights?
IS: Our peak was probably the second Championship win in 2000. We had our doubts before we won the first one, we hadn't got used to winning, but the second time we just steamrollered it.
SM: The groundsmen used to come to us and say, "Saqi, Sals – spin twins – we need the fourth day off so we can go shopping. Can you win in three days?" We did it many times that year. I used to love talking to Ian about the opposition. He used to help me and give me all the information about the batsmen, the way they played and the plans we should have for them. That was really the best part of my cricketing days at The Oval. I enjoyed each and every bit – even the cold, hard days! The only year I didn't enjoy was when I came back in 2008. Things had changed. Ian wasn't there, Adam [Hollioake] wasn't there, Martin Bicknell wasn't there. But apart from that year, every year was excellent. All the words are small for the great memories.
Were you competitive with each other about who could take the most wickets each year?
SM: Many times he would take four wickets, I would take four wickets and we would look into each other's eyes and say, "Who's going to take five wickets?" It was a big tussle for the title of the top wicket-taker, and not just between the spinners. Mr Martin Bicknell used to be involved too. But really it was just a bit of fun; we always used to help each other take wickets. We used to observe the opposition and if a batsman looked comfortable against me and was having problems against Ian then we would make sure that he got to bowl more at him and I would bowl at the other person.
IS: I joked about how I had to take my wickets quick because otherwise Saqi would take them all but I would happily take no wickets to allow him to take five to win the game. And Saqi would do the same back, because it was about winning for the side. It's nice being in a partnership – I think bowlers are remembered in partnerships more than batters – because we knew we'd get to the third or fourth innings and have to win the game for our side, so we had to be close. We never had any rivalry whatsoever and there was never a cross word between us. We would pretty much do anything for each other. We were spin brothers and the brotherhood of spinners needs to stick together!