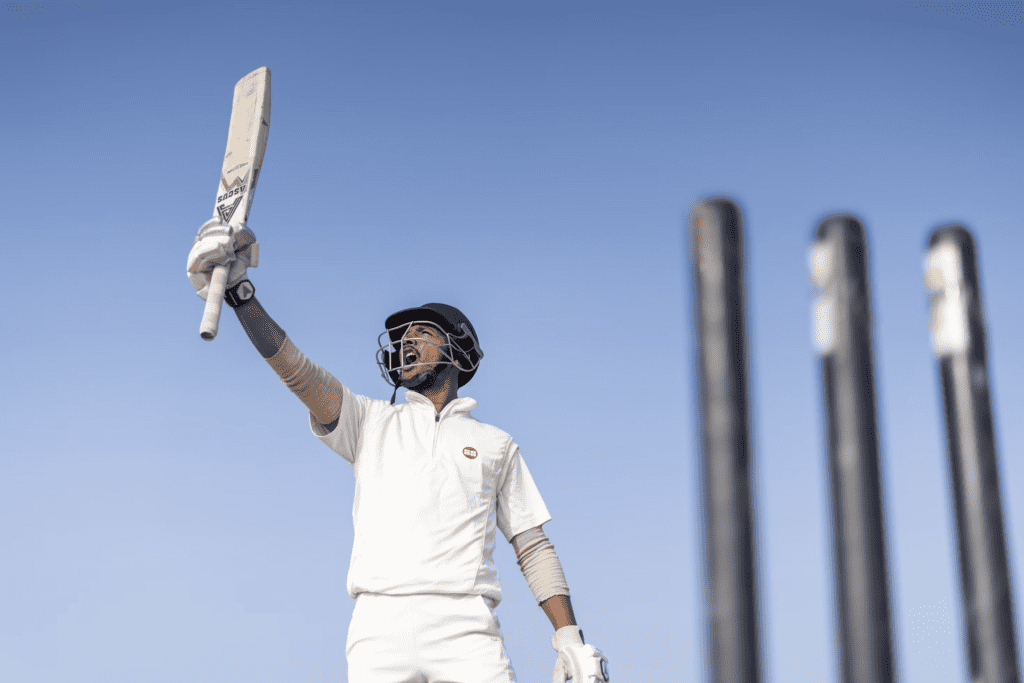 If there's a cricketing metric that continues to become more and more crucial in the modern age, it is strike rate.
Cricket is a sport that is deeply rooted in numbers and statistics, and the concept of strike rate is one of the most important and widely used now.
In simple terms, batting strike rate is a measure of a batsman's ability to score runs in a given period of time. It is one of the key stats that is used to evaluate a player's performance in the game. We're talking about batting strike rate here, but it is worth remembering that there is such thing as bowling strike rate. In bowling terms, strike rate is how many balls, on average, it takes a bowler to take a wicket.
Understanding the Concept of Strike Rate
Before we dive into the finer details of strike rate, let's take a moment to understand what it actually represents. Essentially, strike rate is calculated as the number of runs a batsman scores per 100 balls faced. For instance, if a batsman faces 50 deliveries and scores 25 runs, his strike rate would be 50 (calculated by multiplying the number of runs by 100 and then dividing it by the number of balls faced).
Definition of Strike Rate
The above definition is the most basic form of strike rate, but it can be adapted to suit different formats of the game. In the case of Test cricket, where the aim is to bat for as long as possible, strike rates tend to be much lower. A good strike rate in Test cricket would be in the 40-50 range, while in the faster-paced T20 format it may be as high as 150 +
An example of a player who liked to take his time and scored slowly is Jason Gillespie, whose strike rate across 70+ tests was 31.98.
Importance of Strike Rate in Cricket
So why is strike rate so important in cricket? For starters, it gives a clear indication of how quickly a batsman is scoring runs, which can be especially vital in limited-overs cricket where time is of the essence. High strike rates indicate that a player is capable of scoring runs quickly, which can help the team amass a big total or chase down a target in the allotted overs.
On the other hand, a low strike rate could indicate that a batsman is struggling to score runs and may be putting their team in a difficult position. In Test cricket, a low strike rate may also mean that a player is being overly defensive and not taking risks to push the game forward.
Factors Affecting a Batsman's Strike Rate
While strike rate is a useful tool for evaluating a player's performance, it is worth noting that there are several factors that can affect a batsman's strike rate.
Batting Position
One of the biggest factors that can impact a player's strike rate is their batting position. Batsmen who are sent in to bat early in the innings – such as openers – may be more cautious in their approach and look to build a solid foundation for the rest of the order. This can result in a lower strike rate, but it is often seen as a necessary sacrifice if it means the team can avoid early wickets.
On the other hand, batsmen who come in towards the end of the innings may be required to take more risks and score quickly. This can lead to a higher strike rate, but also carries a greater risk of getting out.
Pitch and Weather Conditions
The condition of the pitch and the weather can also have a significant impact on a player's strike rate. If the pitch is slow and sluggish, it may be difficult for the batsmen to time their shots, leading to a lower strike rate. Similarly, if the weather is overcast and the ball is swinging, it can be tough for batsmen to score runs and stay at the crease for extended periods of time.
Opposition Bowling Attack
The quality of the opposition bowling attack can also play a role in determining a player's strike rate. If they are up against a strong bowling line-up with a lot of variety, it may be difficult to score runs and maintain a high strike rate. Conversely, if the opposition is weaker, a batsman may be able to score freely and boost their strike rate.
Match Format
As we touched on earlier, the format of the match can also be a determining factor in a player's strike rate. Limited-overs cricket, where there are a set number of overs to be played, often sees higher strike rates as batsmen look to score quickly.
Conversely, Test cricket – where there is not as much of a time limit – tends to see lower strike rates as batsmen focus on building a solid innings.
Strike Rate in Different Cricket Formats
Players may adapt and have differing strike rates for different forms of the game. Here's a closer look at how it impacts Test cricket, One-Day Internationals (ODIs) and Twenty20 (T20) cricket.
Strike rate can be measured in different ways, throughout one game, or a career strike rate in different forms such as one day cricket and test cricket.
Test Cricket
In Test cricket, where the emphasis is on accumulating runs and batting for as long as possible, strike rate is not the primary concern. While a high strike rate can be useful in pushing the game forward, a batsman's ability to occupy the crease and tire out the opposition is often seen as more important. Hence, a good Test batsman may have a lower strike rate, but a higher batting average.
One-Day Internationals (ODIs)
In ODI cricket, where teams have 50 overs to bat, strike rate becomes a crucial factor. Batsmen who can score quickly and maintain a high strike rate can help their team post big totals and put pressure on their opponents. In this format of the game, a good strike rate is often seen as being just as important (if not more so) than a high batting average.
Twenty20 (T20) Cricket
In T20 cricket, where each team has just 20 overs to bat, strike rate is often the most important statistic for batsmen. The short nature of the game means that every ball counts, and scoring quickly is key to putting the opposition under pressure. In T20 cricket, a high strike rate is often seen as a crucial factor in a batsman's success, even if they do not score as many runs as in the other formats of the game.
Notable Strike Rate Records and Milestones
Over the years, there have been several standout performances when it comes to strike rate. Let's take a look at some of the most noteworthy records and milestones.
Highest Career Strike Rates
Here are some of the highest test strike rates from players who have played 25 or more test matches:
| | | | | | | | | | | | | | | | |
| --- | --- | --- | --- | --- | --- | --- | --- | --- | --- | --- | --- | --- | --- | --- | --- |
| Player | Mat | Inns | NO | Runs | Avg | HS | SR | 50s | 100s | 0s | Gold 0s | 4s | 6s | ct | st |
| Shahid Afridi | 27 | 48 | 1 | 1716 | 36.51 | 156 | 86.97 | 8 | 5 | 1 | 5 | 220 | 52 | 10 | 0 |
| Tim Southee | 41 | 67 | 6 | 1081 | 17.72 | 77* | 86.54 | 3 | 0 | 6 | 1 | 100 | 53 | 25 | 0 |
| Virender Sehwag | 104 | 180 | 6 | 8586 | 49.34 | 319 | 82.23 | 32 | 23 | 10 | 6 | 1233 | 91 | 91 | 0 |
| Adam Gilchrist | 96 | 137 | 20 | 5570 | 47.60 | 204* | 81.95 | 26 | 17 | 10 | 4 | 677 | 100 | 379 | 37 |
| Graeme Swann | 60 | 76 | 14 | 1370 | 22.09 | 85 | 76.49 | 5 | 0 | 5 | 0 | 181 | 19 | 54 | 0 |
Fastest Centuries and Fifties
The distinction of scoring the fastest century in international cricket belongs to AB de Villiers of South Africa. The explosive batsman reached his ton from just 31 balls against the West Indies in 2015 in one day international cricket, showcasing both his power and his ability to score quickly.
When it comes to the fastest fifty, that record is held by Yuvraj Singh of India. The left-hander notched up his half-century from just 12 balls against England in the 2007 T20 World Cup, and his performance is still considered one of the most memorable in the history of the format.
Memorable Strike Rate Performances in World Cups
The World Cup is the biggest stage in cricket, and it has seen some truly memorable performances when it comes to strike rate. In the 2011 edition of the tournament, Virender Sehwag of India scored a blistering 175 against Bangladesh, reaching the milestone off just 140 balls. His innings is still one of the most electrifying in World Cup history.
Similarly, in the 1996 World Cup, Brian Lara of the West Indies scored a breathtaking 111 off just 94 balls against South Africa. His innings featured a series of audacious shots that left spectators and commentators alike awestruck.
Conclusion
As we've seen, strike rate is a crucial statistic in cricket, and one that can have a significant impact on a player's performance. Whether it's batting in Test cricket and focusing on building an innings, or aiming to score quickly in the one day cricket and faster formats of the game, strike rate is a metric that is always under consideration.
As the game continues to evolve and change, it's likely that strike rate will become an ever more important factor. Whether it's setting new records or simply striving to score as quickly as possible, batsmen will continue to push the boundaries of what is possible in the quest for success in the game of cricket.