This article was originally published on June 19th 2014.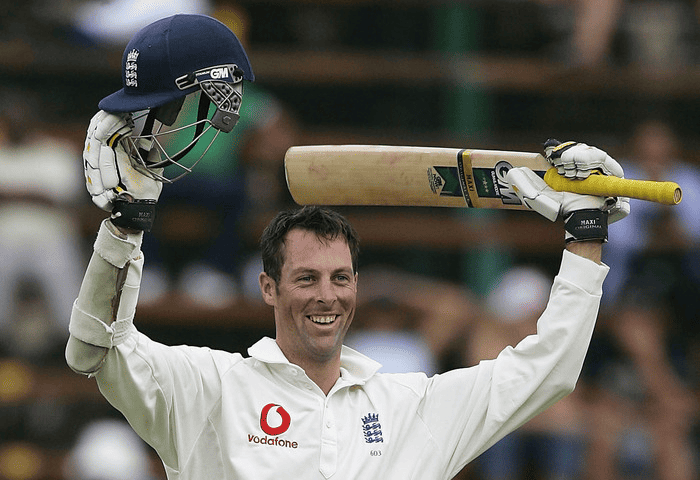 Another of cricket's greatest names takes a stroll down memory lane to reveal the moments that shaped their career. This week, it's former England basher Marcus Trescothick.
THE INNINGS THAT STARTED IT ALL
322 | Somerset 2nd XI v Warwickshire 2nd XI, 2nd XI Championship, Taunton, 1997
In 1997, the schoolboy prodigy was treading water in Somerset's 2nd XI, before a phenomenal effort against Warwickshire's stiffs catapulted his career forward. "They set us 612 to win in about a day and a half. When we started we were just going to bat time, but we ended up getting really close and only lost by about six runs. I hit 322 in that game, still my highest score, and it allowed me to get back in the Somerset side, where things started to go right for me."
THE INNINGS THAT CHANGED EVERYTHING
167 | Somerset v Glamorgan, County Championship, Taunton, 1999
Aged 23, Trescothick had yet to make a real impact in county cricket, but one day at Taunton changed everything. In front of the then Glamorgan coach, Duncan Fletcher, Trescothick smashed 167 on a testing pitch in a low-scoring game. "That was the day that really changed everything for me. It all started coming together after that. I don't know where I would have ended up without that innings. A year later Duncan was England coach, and I was in the Test team."
THE INNINGS THAT GAVE HIM THE TASTE
79 | England v Zimbabwe, First ODI, The Oval, 2000
Trescothick's international debut came against Zimbabwe in the one-day tri-series that also included the West Indies. "I just remember loving every minute of that game, even though we lost. It was amazing to be this young kid in a changing room with all my heroes, who, apart from Andy Caddick, I hadn't really met before. I made 79 and it was all a blur. It was like a drug to me after that.
THE GRITTY BREAKTHROUGH
122 | Sri Lanka v England, First Test, Galle, 2001
England were thrashed at Galle, but the match featured Trescothick's breakthrough innings in a game where no other Englishman made fifty. "I remember it being baking hot. The Sri Lankans had more than 500 on the board, and Murali bowled almost unchanged throughout the match. It was always a challenge against him; I just tried to pick him off with ones and twos. We lost, but it was very satisfying to get that first Test hundred."
THE ONE-DAY MASTERPIECE
137 | England v Pakistan, Fourth ODI, Lord's, 2001
After slipping to 26-3 in reply to Pakistan's 242, Trescothick's brilliance almost rescued England's faltering run-chase. "We had lost a load of wickets quickly and I had a message from Duncan Fletcher saying we needed to get back ahead of the game, and I hit Shoaib Malik for three sixes in an over. We needed six off the last four balls when I was caught off Saqlain Mushtaq, and that was that. But this was my best one-day innings for England."
THE ONE-MAN STAND
108* | England v Pakistan, First ODI, Lord's, 2003
In reply to Pakistan's 229 with wickets falling around him, Trescothick dominated a stand with Chris Read to guide England home with nine balls to spare. "The atmosphere playing Pakistan was always electric. They always had half the crowd and that day the crowd was buzzing. It looked like we weren't going to get there at one point but I was having probably my best ever one-day series. I managed to hang around with Ready and we got over the line."
THE INNINGS WHEN EVERYTHING CAME OFF
86 | England v Pakistan, Third ODI, The Oval, 2003
Trescothick made another stunning contribution in the same series. "We bowled them out cheaply – it was the game Jimmy Anderson got a hat-trick. Myself and Vikram [Solanki] smashed them. I faced about 50 balls for 86 and it was the manner I got them that was so pleasing. Every time Shoaib [Akhtar] pitched it up I smashed it, and when he bowled short I lifted him over the keeper for six! It was one of those days when everything I tried came off."
THE BIG ONE
219 | England v South Africa, Fifth Test, The Oval, 2003
England were 2-1 down going into the final Test and Trescothick had endured a lean run. "I'd broken my finger and had been playing with injections and I didn't get many runs in the first four games. They got 480 and we had to try and find a way to win. We needed 600 and it was one of those days when my concentration was immense. We got 600, bowled them out cheaply, and then I got a few in the second innings [69*] to see us home. Incredible game."
THE TEST MASTERWORK
180 | South Africa v England, Fourth Test, Johannesburg 2005
The fourth Test at Johannesburg saw Trescothick's most memorable innings. Having come away even on first innings, England set about trying to set a good total. "It was a very important series, and this was my most significant innings. At the time South Africa were a very good side and we were becoming a great side so it was a big test for us to go over there and beat them, right before the Ashes in 2005. It was 1-1 at the time so it was a massive Test match. We were getting close to setting a decent total but kept losing wickets. We were six down for about 220 which wasn't really enough. I was batting with Ashley Giles and we decided to take a bit of a gamble. The new ball was due in eight overs and we thought it was best to have a go before it arrived and get up to a good total that way. I started to tee off a bit and we managed to get up to a score which we felt we could declare with and bowl them out. I ended up with 180 out of 330 and Hoggy ran through them when they batted. We ended up hanging on in the last Test to win the series – I will always look back on that innings as being my most significant."
THE CAPTAIN'S INNINGS
193 | Pakistan v England, First Test, Multan, 2005
Post-Ashes 2005, Trescothick was standing in as captain for Michael Vaughan when he made a brilliant hundred in adversity. "My father-in-law had had an accident back in England. It was a big shock and being so far away was hard. Having to deal with that whilst captaining the side was very tough. Considering the pressure I was under, being able to make 193 was amazing. I will always be very proud of that knock."