This post was originally published on All Out Cricket on July 6th 2015.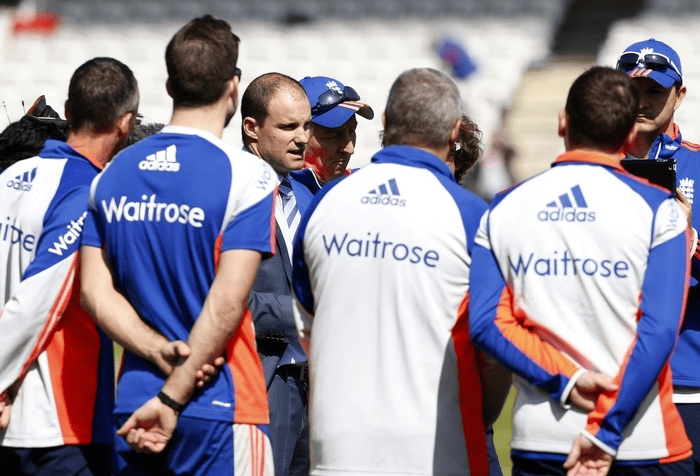 Vithushan Ehantharajah takes a look at the task ahead for the new director of England cricket, Andrew Strauss.
Standing with his back to a track he used to call home, on a ground where he scored five Test hundreds, Andrew Strauss looked, not for the first time, like he owned the place.
Not so much in his demeanour; at the end of a long day at Lord's meeting the assembled hordes on his first day in the role of director of England cricket, he looked exhausted. That his pale blue shirt showed little sign of stress is a credit to his choice of antiperspirant. Nobody thought it was going to be easy, not after everything – even for a man so at ease in the face of bombardment.
But anyone who mistook the boy from Radley College – who was considering the City if the cricket didn't quite take, and who made a century on debut at Lord's just a few years after averaging 13 for the Middlesex 2nd XI – for something of a blessed Corinthian would be much mistaken. There was always grit there. And authority.
When Nasser Hussain, he of so much fight and snarl, talks about Strauss with such reverence, you know there's something serious at work: "He's a leader of men. When he speaks, people listen."
Life after playing was a broad spectrum for Andrew Strauss. There was, of course, his commentary for Sky, but in and around the various punditry ditties, there was business. In his free time, he ran a marathon, to stop himself "getting fat and lazy".
The corporate world has never been a stranger to Strauss. During his playing days, he would take part in various gatherings – Q&As and such – as regularly as other players. As England captain, naturally, those events carried more weight and responsibility. In retirement, he worked more and more in this world through his motivational speech company MindFlick. As a crossover, he would also take on various business briefings to present and champion the importance of data analysis. As a man who negotiated two Ashes victories and England's ascent to No.1 in the Test rankings, he should know.
So it was intriguing to see which tack Strauss would take in those first days as England's new director of cricket. By the time the media had gathered at Lord's on the morning of May 12, for a series of interviews with Strauss and the ECB's new CEO Tom Harrison, we had our answer.
The night before, the two had met Kevin Pietersen in a London hotel to inform him that his England career was all but up. At the time, Pietersen was sitting on 326 not out against Leicestershire. The Kia Oval was buzzing and social media was packed to the brim with those speculating and, in many cases, imploring his reselection. If incoming ECB chairman Colin Graves had left the door slightly ajar, KP had smashed it to bits.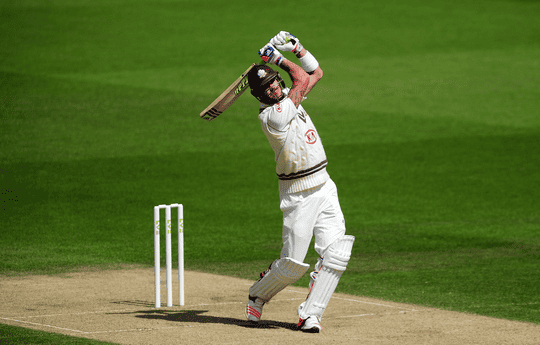 "I told him that we don't have plans to pick him in the England side in the short-term," said Strauss. "I also told him that I can't make any guarantees long-term either. It was a civil conversation between two people but it was a private conversation."
Each batch of media was given this by way of introduction. While some probed and pushed, Harrison occasionally tagged in to spare Strauss. But Strauss didn't need protecting.
On Sky Sports earlier in the day, he admitted that the decision to continue moving on from Pietersen came, partly, from a personal place: "The truth about Kevin is that he is a phenomenal cricketer. But over months and years, trust has eroded between Kevin Pietersen and the ECB. There is a massive trust issue between me and Kevin."
A day later, the Mirror broke a story that claimed Alastair Cook and "other members of administrative staff" would have walked out if Pietersen were allowed back into the fray. In hindsight, Strauss' use of "me", however jarring from a director in a role that would surely benefit from impartiality, seems tactical. Fresh and relatively unscathed, he seemed happy to be Cook's shield.
Earlier on, he had announced that Ian Bell and Stuart Broad would be relieved of their Test vice-captaincy and T20 captaincy duties, respectively. Replacing Bell would be Joe Root, while Eoin Morgan is in charge of all things limited-overs. Oh yeah, and the coach kicked the can.
Prior to the addressing of Peter Moores' departure as head coach came a contrite explanation from Harrison of how unfortunate it was that the details of his axing had been spilled during a washed out ODI in Dublin. As the clumsy details were retold, Strauss frowned. While echoing the sentiment that the affair was thoroughly uncouth – truth is, he looked pissed off – he stopped short of championing a man described by the recently sacked Paul Downton as "the outstanding coach of his generation". Well short.
"He [Peter Moores] has got some very strong skills around player development. But I think in a couple of areas he was exposed at international level, around strategy and tactics, and we saw that in the World Cup. I also believe he was undermined by the fact that he had done the job before. He needed time and space and he was never going to get that time and space to develop the players.
"Very quickly we got to a situation where every game England played was a referendum on whether he should be the coach or not. That wasn't fair on him or the players. We needed to be able to take the pressure off the players and my job is to get a coach that allows us to move forward with fresh ideas and fresh thinking."
One thing his Sky job afforded him was the chance to take a look at the bigger picture – the bigger issues within English cricket. Notably, its alleged decline as a national sport, both in terms of participation and a creeping apathy stemming from ill-thought out statements, high ticket prices and the Pietersen saga. Strauss is fully aware that choosing for a life beyond England's greatest multi-format runscorer is not exactly guaranteed to make him popular, which is why he knows how important the first two are.
"As part of this process, I spoke to Tom and Colin Graves about their vision for the future of English cricket. They're incredibly ambitious and keen to see participation levels going up and keen to see cricket becoming a centrepiece of many households throughout this country."
---
Fast-forward to day five of the New Zealand Test at Lord's; a score to get in, free for the nippers and the oldies, and queues around the block. For a moment, they almost went as far back as the escalators in St John's Wood station. If we're to judge Strauss' effect on English cricket on his first fortnight in office, we'll topple football by September.
England's superbly fought victory in front of a raw and passionate Monday crowd was a step in the right direction, both in terms of public reception and performance. With player development at the forefront of his mind, Strauss' aim is to find areas of weakness within our domestic structure and shape them up or gut them silly. Ultimately, his vision for his own role – both short- and long-term – rests on results on the pitch and in the academies. Strauss wants to cultivate a domestic arena that sees the England team take to the pitch with 11 world-class players who are able to take responsibility to make match-changing decisions under pressure in hostile environments.
"There's a cultural aspect of this; we need to provide a culture where players are both mentally and physically prepared for the rigours of Test cricket. Where they do take ownership of their own games and where they are willing to put the interests of English cricket above their own. That's the sort of culture we need to instill if we want sustained success.
"I've got to look at everything we do – whether that's the support structure we have in place for cricketers, the way we develop cricketers throughout this country, the way we select them – and say, 'Can we do this better?' I think we need to be absolutely prepared to do things differently. That's what excites me."
It's moments like this where the natural politician comes out in Strauss. That's not necessarily a criticism. He's a natural public speaker and has the hand gestures to match; outturned when imploring for time and patience. Not for nothing was he rumoured to be considering moving into politics post-retirement. The topic turns to Cook and Strauss moves forward in his seat, puts his arms on the table that sits in the middle of the Lord's writing room and offers his support with a tone that hints at empathy. And in hindsight, a wisdom that comes from playing the game at the highest level.
"I believe Alastair Cook is the man to take English cricket forward this summer. He's had a tough 18 months and has had to endure a lot. I think he's come through that really well in the West Indies and I think the team needs stability right at the moment and I think he can provide that." Here we are, with Cook saving England from what looked like a nailed-on defeat at Lord's against the Kiwis with an archetypal 162 and then captaining them with finesse for victory in the Monday dusk.
Soon after his backing of Cook came the championing of Root, tinged with more than a hint of a contingency plan: "I know Joe Root needs to develop as a leader now. He's been a fantastic player for England, now's the time to start thinking as a leader and a captain, so I've asked him to become vice-captain of the Test side." Here we are, Root coming in at 25-3 and then 74-3, and leaving with 98 and 84.
---
Strauss feels strongly about the need for separation between Tests and ODI cricket to allow a degree of flexibility that will ensure that England's World Cup performance – where they operated in the dust of other Test nations – will, hopefully, never happen again. It is on this aspect and a handful of others that Strauss will look to elicit the help of former players and coaches.
"I'll be looking to use input from a wide range of people, with good thoughts and ideas about the way that English cricket should go forward. With that in mind, I'm looking to set up an advisory group of notable people to help me forge the strategies and structures for English cricket."
After telling Pietersen that, essentially, there had been a breakdown of trust that meant a return to the playing staff was out of the question, Strauss reveals that he offered him the chance to sit in on this particular "committee". When pressed about the folly of the situation, Strauss was keen to stress he saw it as an opportunity to rebuild trust. Not for the first time, the pair were not on the same page.
Strauss adds that it's his aim to have a full-time England coach in position by the start of the Ashes. After sacking Moores, he spoke to assistant Paul Farbrace to ask him to operate as a caretaker coach for the New Zealand series, before asking about his thoughts on taking the role full-time. Farbrace said he sees himself as more of an assistant coach. Strauss agreed. Domestic English coaches were mooted, but soon nipped in the bud: "For me, to be a credible international coach, they need to have international experience."
As the Lord's Test reached its crescendo, that man was revealed to be the New South Wales coach Trevor Bayliss. For the longest of times it had seemed that it would be another from down under, Jason Gillespie, who had the job sewn up. As news filtered through that Bayliss was the preferred option, Gillespie obliged the press with interviews to clarify the process: a series of good, up-front chats with Strauss in which both sides laid their cards on the table, with no spares up their sleeves.
As well as the required international experience with Sri Lanka, Bayliss' other attractive quality is his limited-overs success, both internationally and across the domestic circuits of the Big Bash and IPL. More than enough for Strauss.
---
Strauss is savvy enough to operate as a conduit between the suits and the team, a 'communication pathway' that from the outside might seem trivial. But it's important. At the end of last year, a senior England player, when discussing with AOC the disconnect between the ECB and the fans, was keen to stress that the players have very little control over the actions of their own board.
He has taken this job because he wants cricket in this country to be better. Looking at it objectively, far less qualified people have tried and for that reason, Strauss should be allowed a good go.
"There are a lot of things going right in English cricket at the moment. But the game is evolving unbelievably quickly and we need to get ahead of the curve. That's very much my focus."
After a period of self-enforced strain and sometime chaos, Andrew Strauss might be the first pillar of stability. The other aspects of English cricket may be slowly aligning with him.
That much was evident when AOC woke up early on that Monday morning, joined the throbbing masses and spent the wait wondering what the day might hold while pounding social media for assurances from the official Lord's account that we'd all be getting in. Soon we were welcomed inside. And then it happened…