This post was originally published on All Out Cricket on July 15th 2015.
He's the most notorious cricketer of his era. A short-form archetype turned ferocious Test opener. A puncher, scrapper, designated attack dog, and now one half of a celebrity Australian couple. David Warner writes his own scripts, perhaps even literally, in the case of The Kaboom Kid series of kids' books about 'Little Davey Warner and his stinky dog Max'. Now he's back in England, thrashing around on pitches he openly can't stand while all around him the big beasts fall. Phil Walker on what happens next.
In January 2012, AOC spoke to Ian Chappell about the state of 'Australian Cricket', an institution still reeling, or so we thought, from that era-toppling Ashes defeat on their own patch a year before. We asked him about the new breed, and tried not to sound too smug positing the honest yeomanry of the wavy, dumpy Steve Smith – now there's one that'll never make it – and that Warner boy, Australia's latest model, the T20 whore with the double-sided bat, requisite dollop of smudged white paint and enough of a whiff of desperation to gird an Englishman's latent imperial streak.
"That was a figment of everyone's imagination," came Chappell's clipped response. "Warner could always bat. The first time I saw him I said to my wife, this kid can bat. Don't you worry about that."
Warner had just broken through to the Test team. This was still supposed to be the kid who came on between the fire-eaters and the lion-tamers, amusing the jaded serfs with a novelty hit and a few giggles. In his debut Test at the Gabba, Warner makes 3 and 12. In his second, also against New Zealand, at Hobart, Warner carries his bat for 123 made over almost six hours, though he can't prevent Australia falling to a seven-run defeat.
A few days after our conversation with Chappell, Warner opens up against India in the Perth Test. He hits 180 from 159 balls with five sixes. Three weeks later, back in his original pyjamas, he reverse-slogs Ravi Ashwin over extra-cover to a ball pitching two feet outside his leg stump. A hit that carries 100 metres.
So Chappell was right, then.
---
If you're on your first Ashes tour and you want to leave a mark, you've got a few options. Near the top would be scoring lots of match-winning runs, right up there with punching the other lot's golden boy in a bar before the tour's got going. In 2013, David Warner threatened to carry off the first bit while emphatically nailing the second. The infamous Walkabout haymaker on Joe Root saw Warner kicked out of Australia's Champions Trophy squad and sent to do time on an Australia 'A' tour. He only returned later that summer, for the third Test of that series.
In the second innings of that match at Old Trafford, Warner top-edged a hook to Root at mid-wicket. "Hooked another one to Rooty," Warner said at the close. "Of all the people in the field… it's quite comical now. I can't wait to read Twitter a bit later." Warner took on the role of panto villain with barely a missed cue. "It's not every day you walk out and get booed. You gotta embrace it."
A week later, he nearly sees Australia home with a sparky 71 in the gloaming at Durham, before a middle-order collapse gifts England a 3-0 series lead.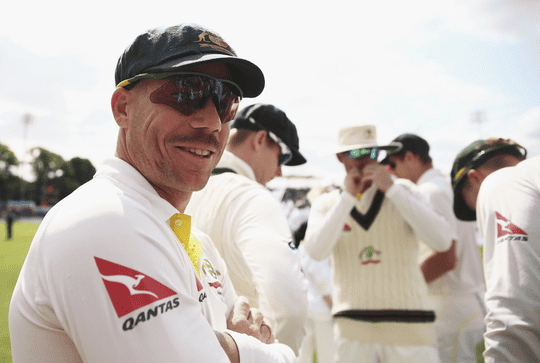 If it was just about possible in the summer of 2013 for an English fan to develop a certain kind of affection for Warner, it was sorely tested a few months later during the first Test of the return series. They'd lost three series in a row, this was Brisbane, and stuff was about to get filthy.
In the midst of a packed media room at the end of day three, Davey's holding court. After another second-innings assault – it's his trademark in Test cricket to tear the place apart in the third innings – he knows he's winning the game for his team. He's asked about Jonathan Trott's dismissal. "Pretty poor and pretty weak." He's asked what it suggests. The batsmen have "scared eyes". The England team's never forgiven him for that.
Warner was unstoppable that winter. If he wasn't jogging in slo-mo down Bondi Beach with his ironwoman fiancée, and telling the Channel 9 cameras that without Candice he'd have gone off the rails, he was pummelling English bowlers for 523 runs at 58.
As Ben Stokes says, it's high time for vengeance.
---
Now this published novelist (ironic inverted commas optional), husband and father, World Cup winner and the holder of 12 invariably explosive Test hundreds from 39 matches is in the midst of his toughest series yet. He doesn't much care for English pitches (or its norms, customs, weather, girls etc), and this week he told Sydney's Sky Sports Radio as much. "I don't think you're ever 'in'," he told them. "There's always that one ball, that bunch of clouds that come over and it starts swinging, that one little bit of movement off the wicket to get you guessing. You don't really feel 'in' at all on these type of wickets over here."
Warner thinks something and says it. It's his schtick. Yet his concerns about the surfaces is another sign of the erosion of Australian confidence. A week is sure a long time in cricket, and the shimmering globetrotters who bestrode Cardiff in the build-up have diminished in size and personnel quicker than a Mark Wood break-back. Watson, Clarke and Haddin suddenly resembled less the immutable spine of this team than the creeping scoliosis around its base; it's to their credit that Watson, whose epic pads grow another few layers of cane in England, looks set to be dropped, and Haddin withdrawn. Clarke's glass back, meanwhile, limits his movements against the short ball to such an extent that in the second innings at Cardiff he was horribly static against the full-pitcher, which he could only skew to backward point.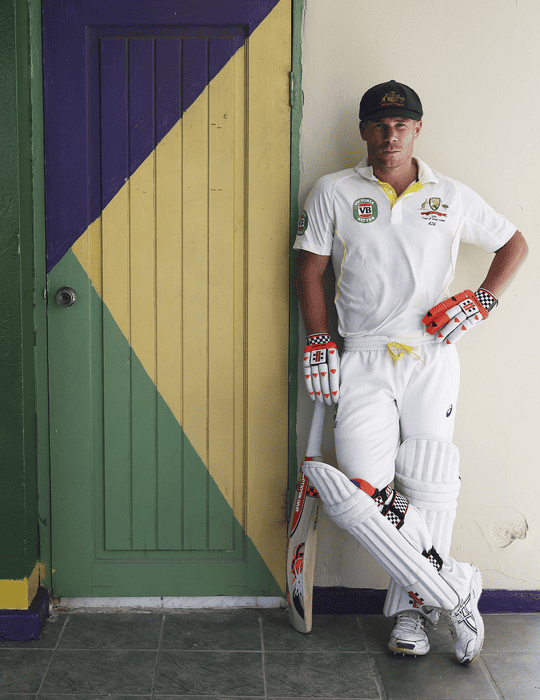 So Warner's critical. In the first innings at Cardiff he pushed hard down the ground rather than riding the swing to nick Anderson to slip, before thrashing manfully on the fourth morning, getting to 52 and missing Moeen Ali's drifter by a bat and a half. Australia will need more than skittish cameos at Lord's. Stuck in the doghouse in 2013, he missed their last abject defeat there, when Steve Smith's leg-breaks were just about the best thing Australia could serve up. This will be Warner's first Test at HQ, and few players will ever have strode through the Long Room giving less of a toss about 'what it means' – while few will have been so motivated to peanut those famous old ties.
England fancy they will find his edge. That the hard hands and absolute commitment which mark his driving will be his undoing against the moving ball. At Lord's in May, the ball swung appreciably in the first hour. But this is Lord's. It settles down. If Warner can survive the opening session, he can drag Australia back into this series. The second Test of a five-match series is often the pivotal one. This is Warner's second go at England "over here". He won't be pulling his punches inside or outside the ring.