This article was originally published on September 2nd 2016.
Ten cricket interviews that won't easily be forgotten.
10. WARNER STINKS OUT THE GABBATOIR
Jonathan Trott was not in a good place at Brisbane in November 2013, England were taking the first step towards a humiliating whitewash and Davey Warner was keen to remind them of this. "It does look like they have got scared eyes at the moment." Alright mate. "The way Trotty got out today was pretty poor and weak." Enough now, you've made a ton and you're going to win the Test, but steady on. Warner was left red-faced when a couple of days later Trott checked in at Brisbane International.
9. MOORES THE PITY
A World Cup campaign over in 28 days and a reputation for data-driven cricket entrenched. Speaking to the BBC after the defeat to Bangladesh, England's coach Peter Moores appeared to say: "We'll have to look at the data." The internet rose up in fury, but it never happened. Moores had said 'later', and although he did mention data in an interview with Sky, the context was totally different. However, when Moores was sacked six weeks later, this was to be his legacy.
8. GAYLE'S BLOW OUT
On January 4, Chris Gayle told Aussie reporter Mel McLaughlin not to "blush" during a pitch-side interview but after Cricket Australia took exception to his comments, he dismissed journalists' questions by saying it was all a joke. Fast- forward to May, and Gayle is interviewed by Charlotte Edwardes of The Times and claims to have "a very, very big bat, the biggest in the wooooorld," before asking: "You think you could lift it? You'd need two hands." Charm offensive complete.
7. BIG WILLEY STYLE
Jade Dernbach and David Willey may not care to admit it, but they are actually pretty similar characters: fiery, heart-on-sleeve sorts who say it as they see it. We knew Dernbach well by 2013, but Willey was not so familiar. He made a name for himself at T20 Finals Day, though. Firstly through his brilliant showing on the pitch, and then by telling the media what he thought of the Surrey paceman. "I don't really like the bloke, to be honest," said Willey. Say what you really think, Dave.
6. BIT OF BEEF
These were the days when men were men, and they said what the hell they thought. These were also the days when Ian Botham was managed by the DJ Tim Hudson, who described the allrounder as "the greatest British hero since Wellington or Nelson". Somehow, who knows how, Beefy ended up on BBC Scotland in 1986 faced with a panel of exceptionally well-educated teens, and said his piece on a variety of issues, including fox hunting ("There are more deer in this country than in the days of King Henry VIII. Fact"), parenting ("If you want to change nappies, change nappies. It's a free world. That's why my father fought in the Second World War") and drugs ("The next thing you know you've got some kid chasing the dragon at the age of 14").
5. BOXING DAY KO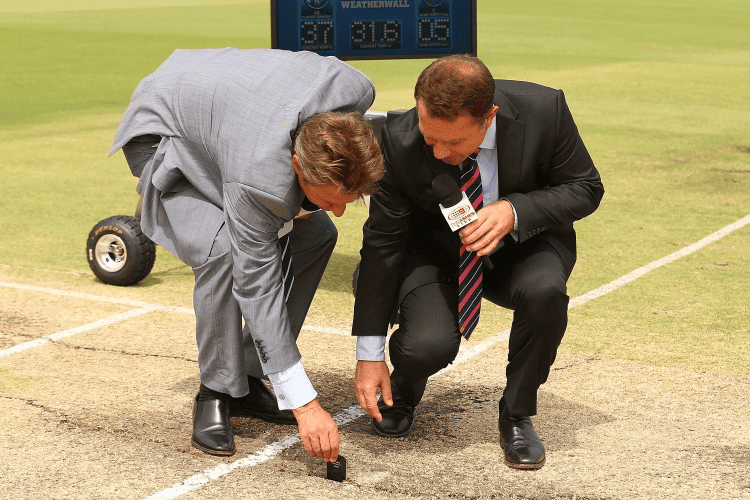 It's the 2013/14 Ashes, Boxing Day, and the series is to all intents and purposes done. Channel Nine decide to give the women's game a five-minute slot in its coverage, as Meg Lanning and Ellyse Perry join Michaels Slater and Vaughan for a toe-curling chat. Slater middles his opening line – "Hello ladies, you're looking fantastic as always" – before moving on to some patronising patter about the improving skills in the women's game and launching a segue into some pictures of Lanning and Perry modelling swimwear. "Don't be embarrassed," says Slater. Cringe.
4. MARLON'S BAD MANNERS
If there was something noble about Darren Sammy sticking up for his much-maligned team after their World T20 win over England, then Marlon Samuels' feet-on-the-table moment in the post-match presser, funny though it may have been, rather spoiled it. Samuels took aim at his many detractors, opening up with Ben Stokes – "He just doesn't learn" – before tucking into his arch-nemesis Shane Warne. "I don't know [why he doesn't like me], maybe it is because my face is real and his face is not."
3. BIG BOB STICKS THE BOOT IN
"The standard of journalism in this country," Bob Willis, son of a journalist from this country, said to journalists from this country, "has gone down the nick completely." The scene was Headingley '81, and the context meant that Willis could say, well, anything he liked. "People have to rely on small-minded quotes from players under pressure for their stories," he continued. "Where they used to write about cricket, they don't seem to be able to do that any more." That's them told, then.
2. IT'S NOT EASY BEING KP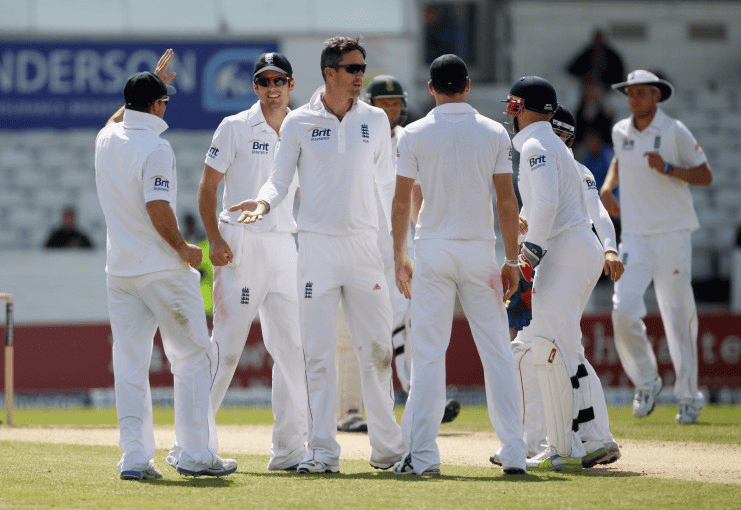 Headingley again, and another sensational performance, both on and off the field. When Kevin Pietersen proclaimed, after hitting a superb century against South Africa in 2012, that it "is not easy being me", he was not mouthing off about the media, but his own teammates. In fact, this period of Pietersen's tumultuous career was a triumph of modern media: there were those misguided BBM messages, the infamous parody Twitter account and, of course, that YouTube apology. What a time to be alive.
1. RAGEFUL RAVI
Ravi Shastri, who'd been India's team director until the end of the 2016 World T20, was very keen on the recently vacant national coaching role. He gave a video interview to the selection panel, who eventually picked Anil Kumble instead. Shastri didn't take the decision well, directing his anger at Sourav Ganguly who was on the panel but chose not to sit in on his interview. "Nothing surprises me in Indian cricket anymore," he raged. "A member of the committee [Ganguly] wasn't present and that was disrespectful to the selection process. He was disrespectful to the job he was entrusted with."