This article was originally published on All Out Cricket on April 19th, 2015.
Having overtaken Sir Ian Botham as England's leading Test wicket-taker, James Anderson's greatness is secured. But for all the garlands and plaudits, his job remains incomplete, and he knows it. Before Jimmy headed off to the West Indies to tick off Test wicket No.384, Vithushan Ehantharajah travelled to Manchester to meet the man tasked, yet again, with dragging England out of the doldrums.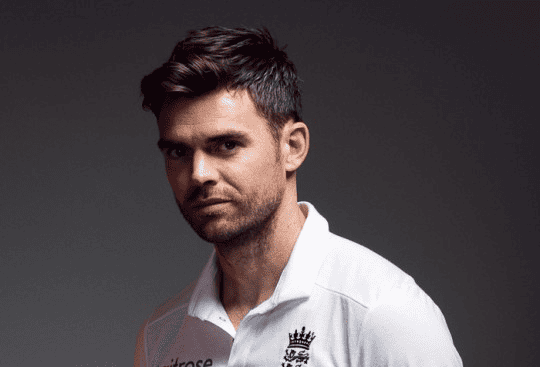 To get to the Lancashire indoor cricket centre, you need to make it through three checkpoints.
The first greets you as you walk through the LCCC-emblazoned gates: the refurbished façade of Old Trafford, its red-tinted brickwork and a glass frontage through which you can spot the reception desk before you're in the building. They see you, too. If they know you're coming, you'll do well to make it over the threshold without being greeted.
Upon being given directions – "Out here, take a left, follow the ground around and you should see it" – you work your way through a gated concourse towards the indoor school. Entering the building, which from the outside looks like a school building dedicated entirely to Geography, you're at another front office, with a sliding window, manned by foot-soldiers in Lancashire CCC stash and county cricket haircuts. Once you've gained their approval, you make your way along one last corridor, in which you will invariably bump into someone in their early fifties.
"Are yer lost?" comes his voice, without breaking stride. "Oh, you're here for ar' Jimmy? He's through there. Don't give him a hard time." Noted. Hope you gave Jimmy the same advice, I say.
The lead-up to this meeting – my first with Anderson, who has a well-earned reputation for not suffering fools, especially the kind who masquerade as journalists – has been something of a fact-finding mission. Those series-defining spells and those booming swingers and that prickly, bolshy cussedness are there for all to see, as are the numbers: at the time of writing, it's 380 wickets from 99 Tests at an average the right side of 30. Four more victims will take him past Sir Ian Botham as England's greatest ever Test wicket-taker.
But throughout Anderson's sprawling, epic affair with English cricket he's remained curiously tricky to pin down; pretty much right from the start, in fact, when the media's initial attempts to create 'Jimmy' – good-looking kid, possible crossover potential – prompted his mum to request that they call him 'James' instead. So I ask around a handful of his friends, teammates and adversaries. "He's creative away from the game; loves his music, his clothes and whatnot," says one. "He just loves talking about cricket – Swanny's the joker but Jimmy's the thinker. He was talking to me the other day about what Lancs need to do to grow. He's a bit of a badger actually," remarks another.
A third voice: "He's a bit of a bastard. Certainly, when I've faced him. That's all I've got to go on. I don't know him well enough to know if he means to be. But he is."
Somewhere in amongst all that sits James Anderson.
---
There's little in Anderson's presence that surprises. He's tall without being lanky, slight without being skinny, gruff without being rude, unshaven without being unkempt.
In the lulls between lens and light changes during his photoshoot he's bowling off a couple of paces into the side of a taut net, collecting the ball as it comes back, occasionally doing a couple of kick-ups before having another go. It used to be said of Mike Tyson that, if you sat close enough to the ring, you could feel the air from his punches.
Similarly, at close quarters, Anderson's arms emit an audible whoosh. At one point, under his breath, he feigns an appeal, before remembering he's in unfamiliar company. It's only a snigger from his agent that allows him a smile.
There's not been a whole lot to smile about. It's the eve of England's tour to Australia for the Tri-Series and the World Cup, and things have not been going well for his teammates in Sri Lanka. Anderson may not have been on that Sri Lanka tour but his friend Alastair Cook was. Hours after our meeting Cook is relieved of his duties as ODI captain and left out of the World Cup squad.
Anderson had watched the matches from afar and with great disappointment. While the pressure was ramping up on Cook, Anderson spoke regularly to him – unsurprising, given they have been tight for a decade. "Honestly, it's been hard work listening to it on TV and seeing the media reaction to it, on Twitter and in the papers," he says. "It's sad to see him struggle like this. He had a tough summer, with a lot of people on his back. He got it together at the end of the Test series but then the ODIs came and they were straight back on him."
For 'they', read 'the press'.
His relationship with the media sideshow is said to be uneasy to the point of suspicious. Anderson is analytical. When he walks back to his mark after a delivery, he's computing everything about it, from direction to execution, to how it was repelled – if it was repelled – to the shapes and kinks it's about to expose. As thorough a bowling strategist as England has ever possessed. Apply that analytical process to the media, and it must seem to Anderson, along with many other sportspeople, that there is little worth to it. That it doesn't matter. He has a profound ability to hoop a cricket ball late and at pace. The rest is just a diversion.
Experience has taught him that, as an elite athlete, there is an obligation to be accessible. But there's a scepticism he can't shake, and most of it is reserved for ex-players who find themselves in the media, constantly passing judgments on those still active.
Anderson is a realist who intuitively realises that the game is a hell of a lot easier once you've retired. However, there is one former player, ever-present in the media that Anderson has a lot of time for. His first England captain, Nasser Hussain.
---
Before Anderson met Nasser, there was the small matter of his rise.
It's a well-worn story now, from Burnley CC to the MCG and an England ODI debut against Australia, all in little over a year. Truth be told, he's never left Burnley CC.
There's a photo in the Burnley pavilion of a young Anderson releasing the ball, sniffing the ground in that exaggerated manner. Members would remark that it was just like he was bowling for them as they watched him make his mark on the 2003 World Cup. "Quick, swinging both ways, and the odd, wide loose one!" There was none of the latter in his stunning name-making 4-29 against Pakistan under the Newlands lights.
The recently refurbished function room at Burnley has now been named 'The James Anderson Suite', while his charity, Nordoff Robins, which is dedicated to changing the lives of vulnerable children and adults across the UK through music, adorn the club shirts. He also donates England shirts and other various bits of kit that get auctioned off as a way for the club to generate further income.
"Whatever I ask, he'll oblige," says Michael Brown, the former Hampshire, Middlesex and Surrey batsman, a Burnley teammate of Anderson's, and now chairman at the club. While older than Anderson, Michael's younger brother, David, is a life-long friend. David was best man at Anderson's wedding. Soon the favour will be returned.
At under 16 level, when Anderson was a regular for the Burnley 1st XI, he went for trials at Lancashire in the hope of joining David, who was already in the side. Anderson was unsuccessful.
However, after returning to the club with the bad news, Michael and David's mother took it upon herself to call up John Stanworth, who at the time was the player development manager at the county, and urged him to take another look. He did, and Anderson was taken on.
"Standing on the field when he was bowling for us [Burnley], he was something else," remembers Michael. "He had that extra yard of pace and ability to move the ball that you just don't see. I mean, seriously, he'd bowl magic balls."
In the Lancashire Leagues, Anderson developed the nickname Pro Killer. "He'd bowl and only end up with something like 1-35, but he'd get the overseas pro. The big wickets – only the players that were good enough to nick him."
Martin van Jaarsveld was one. West Indian Roger Harper was another. A Lancashire bow was imminent, and after 50 first-class wickets in his debut 2002 season, he was drafted into the England team. Nasser's England team.
Hussain and Anderson remember their time together very differently. Hussain has spoken often and at length about how he could not get a read on this 20-year-old who kept himself to himself, evoking the emotions of a father finding it hard to empathise with his adolescent son. Anderson, however, is effusive. "I didn't know a great deal about him at the time, but Nasser was great with me. He was exactly what I needed from a young age."
In Anderson's imagined dream sign-off – a 12-wicket match haul and a century in a deciding Ashes Test – Nasser would be conducting his post-match interview.
"He pushed me when I need to be pushed and he put his arm around me when I needed that as well. I really enjoyed his captaincy and the way he went about things. It helped me immeasurably as a 20-year-old. It was actually really daunting going into that changing room."
Even with Hussain's presence, the memories of being part of that dressing room are not fond ones. England had just been thrashed in the Ashes – two by an innings and another by 384 runs.
"From my point of view, I'd been drafted in as cover for an injury and my thought process was just to enjoy every minute – that's pretty much where my head was at. But in the dressing room, the environment was quite competitive. A lot of people watching their own backs. Put it this way, there wasn't too much advice flying around.
"One thing that dressing room taught me was to recognise that I've been fortunate to get where I am, and I've got a lot of responsibility in the team I'm in now. And one of the responsibilities in the team is to make sure that sort of thing doesn't happen again; people watching their own backs and playing for themselves. It's a team sport and good teams aren't necessarily your best individuals, they are your best team."
He's certainly put that into practice. During a pre-Christmas England Player Performance training programme, the 'pack leader', as he's now been known for years, took time to talk to the junior bowlers, including Durham's Mark Wood, who will be part of England's fast-bowling unit out in the West Indies.
In the 2014 Test summer, in which he took 37 wickets against Sri Lanka and India, Anderson taught his 'wobble ball' to Chris Woakes. The delivery, which Anderson had been working on and executing since 2010, is a ball released from the hand rather than pushed with the wrist, thus allowing the seam to wobble. The trajectory is unusual and the movement slight. Anderson had used it to great effect away from home in the 2010/11 Ashes series (24 wickets) and in probably his finest sustained Test performance, the 2012 series against India. By the end of last summer, Woakes, too, had got to grips with the wobble ball. Anderson insists such interactions are a two-way street.
"It should be a natural thing for teams to be open with each other," he says. "In net sessions, I'll be bowling in the same net as Chris and we chat a lot. It's not necessarily me advising people, it's just about us chatting together and learning the game.
"Even I felt like I learned something from the younger bowlers this year. Talking to players like Chris Jordan, who has such a positive frame of mind, I think even at my age, you can learn things. You need to keep an open mind."
When he's not learning from his own players, he's learning from some of the world's best. Downtime at home is spent scrutinising Dale Steyn's approach to the wicket, Vernon Philander's seam presentation or Ryan Harris' wrist. "There's stuff to learn from all three of them," he says.
"I try to watch as much as I can, even though it annoys my wife and kids. I see it as part of my job to learn about people I'm going to be playing against or new things that I can use in my game.
"It's only after watching a lot of cricket that you can then start to test things out. The way the game is going at the moment, especially in ODI cricket, you need as many skills as possible. No matter how old you are, you still need to learn."
---
Anderson's mentor, Mike Watkinson, recognized this thirst for knowledge early on. Involved heavily in the Lancashire set-up for 32 years, as a player, coach and, up until recently, director of cricket, Watkinson has seen a lot of talent come through. He would have seen even more wasted. Anderson's charm, he says, was self-awareness.
"You see so many young cricketers who come through. But it's not often you take a particular shine to an individual, because you don't know where their career's going to go.
"But the one thing I noticed about Jimmy, other than the fact that he was reasonably reserved and sitting in the corner of the dressing room, minding his own business, was his self-awareness. If you get a cricketer with that, he's got more of a chance of self-coaching and taking ownership in developing his own game. Jimmy's own cricket is a testament to that, especially when you see him make changes to his bowling or plans in match situations."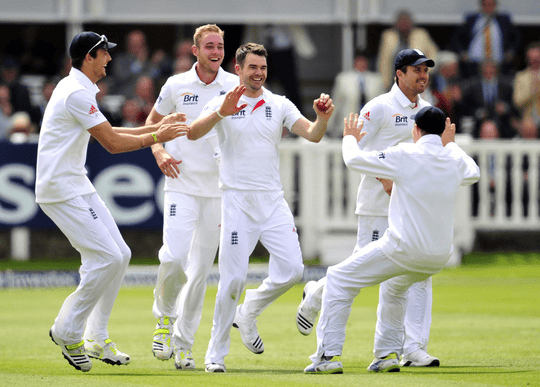 Another thing Anderson took ownership of was his rehabilitation from a stress fracture of the back, which wrote off most of his 2006, having come about in the midst of a decision to remodel his whippy action to prevent the very injury he ended up contracting. It was while bowling in these rigidly realigned straight lines, devoid of any give or joy, that it was sustained. Some close to Anderson still harbour resentment to those who pushed through the change: "He had clearly grown into his action," said one former Lancashire teammate. "It worked for him. It shows that, if he had been in the system for longer, he might have been too over-coached."
But the six-month break – the longest enforced lay-off he's had to date – gave Anderson the chance to take stock. With the help of Watkinson and England's then-bowling coach Kevin Shine, he took an active lead in reintroducing some of the natural elements to his game that had worked before the change. It involved an examination of his strengths, restoring subtle movements in his shoulders, hip rotations and changing the point at which he was square to his target. It was a gradual process that involved a fair bit of conditioning, as with any rehab. But the benefits are there for all to see.
Enough time has passed and rewards reaped for Anderson to look back on this period in his career with pragmatism. "You kind of learn from a young age that it's just part of the job," he says. "A lot of people get injured but you find yourself just praying that yours aren't career threatening or particularly long-term.
"I'm probably fortunate as it was the longest injury I had and it made me more determined to get back fit and assess my career and how I went on from there.
"I was fortunate to be able to consult with Mike and Kevin. From then on, the positive thing for me was trying to enjoy every minute. You know you could get an injury at any time. You've got to make the most of being fit when you get out onto the field."
And then some. In the seven years since the start of 2008, when he was back to his twisty, slingy ways, Anderson has taken 318 Test wickets at an average of 27.9.
The standouts were 2010 (57 victims), 2013 (52) and 2014, with 40 at 22.15. As the king of Nottingham, all three seasons have featured breathtaking salvos at Trent Bridge – 6-17 against Pakistan, match figures of 10-158 against Australia, and last season, four on a dead one plus a career-best with the bat.
Last year, Trent Bridge also witnessed one of Anderson's signature traits come to the fore and nearly flatten him.
---
There's a story from the Lancashire Leagues that goes a little something like this: Burnley had travelled 20 minutes down the road to play Haslingden. It had rained the previous evening, so extra time was needed to dry the ground out, but it was still good enough for both sides to go through their warm-ups.
Anderson, who was now on the books at Lancashire, took it upon himself to investigate the run-ups. Unimpressed, he sought out the groundsman who, unbeknownst to him, was part sporting oracle, part snarler. And a Blackburn Rovers fan, to boot.
"Are you going to do anything about that?" came the question, in a rhetorical tone. Negative. After a brief couple of exchanges, with a teen Anderson increasingly agitated, the groundsman picked up a bag of sawdust and hurled it in his direction: "Here, you f* sort it out!"
Anderson doesn't quite remember the exchange, but admits: "It definitely could have happened." He carried his performances around with him, especially if things didn't go his way. There was little by way of chirp, but there was a clear indication, even back then, that he was never one to back down. At times, though, he might have given off the wrong impression. "It wasn't that he was sulking, it's just that he was disappointed," recalls Michael Brown.
Burnley's overseas pro at the time, Dale Benkenstein, now first-team coach at Hampshire, also noticed it. At times, Benkenstein would talk to Anderson, encouraging him to do less of one thing and more of the other.
When both Anderson and India's Ravi Jadeja left the field at Trent Bridge, at lunch on day two during the first Test, side by side, it was the start of something messy. Words were exchanged. Anderson seems to do most of the talking, as the on-field camera is fixed, giving the pair full focus. Jadeja chips back.
Within the confines of the pavilion, out of shot, the BCCI alleges that Anderson pushed and shoved Jadeja all the way into the dressing room corridor. A Level Three charge was insisted upon, which would have meant a four-Test suspension. Witnesses were called. Stuart Broad, Matt Prior and Ben Stokes for the defendant; Duncan Fletcher, MS Dhoni and India physio Evan Speechly for the prosecution.
Eventually, 22 days after the incident first took place, the ICC appoints judge Gordon Lewis. After spending six hours listening to evidence from both sides via video link, he throws out the charges. "Once it went in front of a judge, it wasn't just the BCCI against me, it was the ICC, too. That was when I felt it could be an unfavourable outcome. I really feared that I would be banned. I was surprised it had got to that stage. I thought it had blown out of proportion. The whole process, I was quite amazed it had got to that level of seriousness. And the fact that it dragged on.
"It was silly, really, the way it got out of hand. The ECB were really good in that they kept it away from us. Because it wasn't just me who was getting dragged into a room, it was all the other guys as witnesses, too."
The question is, what did he take away from the experience? There is a strong possibility that an Anderson-less England would not have gone on to win that series. "It certainly helped me become more determined to beat them. And also, I think I was fairly restrained for the next three games. It showed me I can be aggressive without being verbal with anyone."
It is not too much of a stretch to suggest that Anderson brings this on himself. While it is fairly obvious that there is no malice to Anderson, his routine of psyching himself up – winding himself into a frenzy where he is totally fixated on his own, personal battle with the batsman can spill over – can he do without it?
"No. I see it as a strength, and I think Cooky and the coaches see it that way, too. Thing is, it's not something I look to do, you know, go out and get abusive with someone or have a spat. I know not everyone would agree with it, but I think I need it. Each team and individual needs any edge they can get to win a game of cricket. It's just a competitive edge; a will to win. I've learned to control it, to an extent; sometimes I do boil over."
The idea of a Jadeja-related ban being issued is put to him. So is the suggestion that he might have let his team down in that event. He disagrees. In fact, just as the hypothetical situation is being pieced together, he cuts it off without hesitation.
"Definitely not. It didn't warrant the charge."
---
"What do you want me to do, cut them off?!"
As the photoshoot winds down, Anderson has been asked to adopt a variety of poses while sitting in a steel chair with a fabric-cushioned seat. He's just been told his arms are affecting the shot. The session draws to a close, at which point an array of products are brought out to sign. He obliges to every single piece; cricket balls, miniature bats, Lancashire posters, England shirts – the lot.
His agent then reels off a list of further engagements, before he says his goodbyes and slinks off, shoulders up, chest out, back through that corridor, onto that concourse, and out through those front gates. Huffing, of course.
"He's pretty sound for one of the best bowlers ever, isn't he?" comes a voice from the office as I leave. "I suppose he is," I reply.
Like many others, the thought of considering Anderson in those parameters hadn't crossed my mind. Mostly because discussing players and their standing has become a tortuous affair.
But Anderson has been English cricket for nearly a decade. He came in when things were grim, led England to historic heights, and is now charged with dragging his team back out of the pits after two horrific, scarring winters under the Australian sun.
"To be England's leading Test wicket-taker would be a huge, huge honour. Undoubtedly. I can say that I'm not into stats, but it's hard to get away from them. Even if I don't seek them out, they always pop up on grounds and on TV, so you always have an idea of what they are. They're shoved in your face all the time. But it's certainly not something that drives me on."
And so it's down to Anderson, again, to rejuvenate this team. It hardly seems fair. Because here is a true craftsman, who avoided the worst parts of the English system – the prying and politicking – to become the finest swing bowler our game has seen. Perhaps we should just leave him to his art.